This afternoon's headlines at a glance
By

Broede Carmody
Good afternoon and thanks for your company.
If you're just joining us, here's what you need to know:
Ukrainian President Volodymyr Zelensky has reiterated his call for NATO to establish a no-fly zone over his country. Zelensky has also said there will be no forgiveness for Russians who deliberately target civilians. A mother and her two children are among several civilians who were recently killed by Russian shelling while attempting to evacuate from the town of Irpin, which lies on the north-west outskirts of Kyiv. Meanwhile, Netflix has suspended its Russian service and TikTok says users in Russia will not be able to post new videos or livestreams.
Prime Minister Scott Morrison says he understands the "great frustration" of communities in northern NSW and south-east Queensland who say they need more boots on the ground to assist with flood rescue and clean-up efforts. However, the PM has also said it's difficult for the ADF to get things done "[when] you can't get through to … a particular location". Earlier this morning, NSW Premier Dominic Perrottet stressed that the clean-up and rebuilding process is expected to take months (if not years). Large parts of NSW and southern Qld will continue to face rain and flooding risks in the coming days.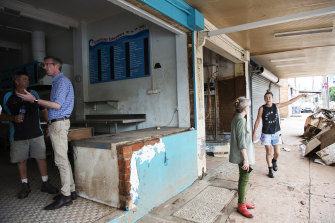 In federal politics, former prime minister Malcolm Turnbull has slammed the Morrison government's plan to build a new submarine base somewhere between Wollongong and Brisbane. Mr Turnbull told ABC radio that today's announcement is a "transparently political" attempt to win back votes on the eve of the federal election. The new base for nuclear-powered submarines will be built at either Brisbane, Newcastle or Port Kembla under a $10 billion plan. The PM says the port will bring economic benefits to Australia's east coast and provide additional security to the Indo-Pacific region.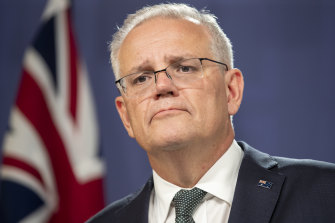 And in COVID news, Victoria reported 5645 new coronavirus cases today and two deaths (up from yesterday's 5046 cases). NSW reported 9017 cases this morning and five deaths (up from yesterday's 8782 cases). In Queensland, there were 3677 new cases of COVID-19 and one additional death. And in the ACT, there were 553 new cases.
I'm signing off for the day and will be back with you bright and early tomorrow morning. Pallavi Singhal will anchor our live coverage for the rest of the afternoon.
Insurance claims continue to rise
By

Charlotte Grieve
Insurers have now received 86,703 claims related to the east coast flood crisis, with the total damages bill expected to exceed $1.3 billion.
Today's Insurance Council of Australia figures represent a 28 per cent rise on Friday's count as policyholders in NSW return to their properties.
The ICA issued a reminder to customers that they are not required to keep destroyed property, including carpet and furnishing, but should instead take photos and keep material samples.
Loading
ICA chief executive Andrew Hall said the crisis "is shaping up to be one of the most significant floods this country has experienced".
"We will always have extreme weather in Australia, but if we want different outcomes the future Australian governments must increase investment in measures to retrofit homes and better protect communities," he said.
Affected policyholders are bracing for a rise in premiums as they sort through the wreckage, prompting experts to claim insurance is going to become unaffordable in disaster-prone areas around the country.
The ICA said 72 per cent of claims are from Queensland and 28 per cent are from NSW, with 83 per cent for domestic property and the remainder for motor vehicles.
ASX down 1.3 per cent
By

Lucy Battersby
To business news briefly, and the benchmark S&P/ASX 200 has wiped off a week of gains by falling 1.3 per cent, or 94 points, down to about 7010 points so far today.
Meanwhile, the Aussie dollar is at five-year highs against the Euro and four-month highs against the US dollar.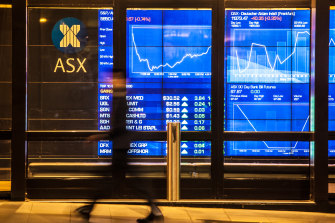 Only 35 companies out of the ASX200 are higher. The list of gains consists of commodities companies like oil producers, gold miners, and wheat producers who are benefitting from sudden spikes in commodity prices caused by the Russian invasion of Ukraine.
PM formally announces east coast submarine port
By

Broede Carmody
Prime Minister Scott Morrison is currently addressing the think tank the Lowy Institute via video link.
He has confirmed Mike Foley and Shane Wright's recent story (that Australia will build an east coast base for nuclear-powered submarines).
Here's what the PM had to say:
This is about additional national capacity, not relocating any existing or planned future capacity for Fleet Base West. Fleet Base West will remain home to our current and future submarines, given its strategic importance on the Indian Ocean.

The decision to establish an east coast submarine base has been many years in the making … a second base will enhance our strategic deterrent capability, significant advantages in operational, training, personnel and industrial terms.

Following significant work by Defence, reviewing 19 potential sites, three preferred locations on the east coast have now been identified. They are Brisbane, Newcastle, and Port Kembla.

Our government has authorised Defence to immediately begin engaging with the NSW and Queensland governments – and I was in contact with both of the premiers last night – and relevant local governments also, and authorities, to further validate their work to date and to begin negotiations on what will be an enormous undertaking.

This initial work is expected to be completed by the end of 2023 and will ultimately form part of the informed, by the work under way right now by the nuclear submarine task force.

Defence has not constructed a major new base since Robertson Barracks [in the NT] in the 1990s. Construction of an east coast base would be the largest undertaking in the program in our Defence Force. Based on early estimates, we have provisioned nationally more than $10 billion to meet the facilities and infrastructure requirements.
Big four accounting firms cut ties with Russia
PricewaterhouseCoopers is set to exit Russia after 30 years of doing business there, and KPMG is pulling out of Russia and Belarus in response to the war in Ukraine.
In separate statements, PwC said PwC Russia would leave the global network, while KPMG announced similar measures for its business.
PwC has 3700 partners and staff in Russia, while its rival has more than 4500 people in Russia and Belarus.
"They did not ask for this senseless war," the PwC note said.
PwC member firms outside Russia will exit any work for Russian entities and individuals subject to sanctions.
KPMG had previously announced that it would cut ties with certain clients subjected to sanctions.
AP
Qld records 3677 new cases of COVID-19, one death
By

Broede Carmody
Queensland has reported 3677 new cases of COVID-19 and one additional death.
Today's tally is up on yesterday's 2934 cases.
There are 267 people with coronavirus in Queensland hospitals. Of those, 20 are in intensive care.
The ACT's daily coronavirus numbers are also in.
The nation's capital has recorded 553 new cases of COVID-19 and no new deaths. Today's tally is down slightly on yesterday's 562 reported cases.
There are 39 people in hospital with coronavirus. Of those, two are in intensive care. One person is on a ventilator.
Tasmania has also recorded 784 new cases, up from yesterday's 757. There are five people in ICU in Tasmania.
Ukrainian President says no forgiveness for those deliberately targeting civilians
By

Hanna Mills Turbet
In his latest Facebook video, Ukrainian President Volodymyr Zelensky has accused Western leaders of ignoring the most recent attacks on his people.
As mentioned earlier this morning, a family of three are among several civilians who were recently killed by Russian shelling while attempting to evacuate from the town of Irpin, on the north-west outskirts of Kyiv.
"This is murder," Zelensky said. "Deliberate murder. And I have not heard a reaction from any world leader today. From any Western politician … not a word, as if Western leaders have dissolved tonight."
Zelensky started his video with a spiel about "Forgiveness Sunday", a day when Ukrainians apologise to each other and to God.
"These words seem to have lost their meaning today… We. Will. Not. Forgive," he said.
The Ukrainian President also said he was awarding "orders [of merit]" to the heads of regional administrations and mayors who had excelled in the defence of their communities.
Zelensky also said that Russian forces were preparing to bomb Odesa, Ukraine's third-largest city.
"Russians always travelled to Odesa, always felt only warmth in Odesa," Zelensky said.
Odesa has a population of 1 million people and is a strategic port in the south of Ukraine.
Loading
As mainstream media and social media networks are forced to pull out of Russia due to a crackdown on what can be reported about the war, Zelensky is using his own social media accounts to reassure Ukrainians and plead for support from Western nations.
Late on Sunday (Ukraine time), Zelensky reiterated his call for foreign countries to impose a no-fly zone over Ukraine. Establishing a no-fly zone could risk escalating the conflict, as Russia has said a no-fly zone would effectively be a declaration of war from NATO.
Although the United States and many Western countries have backed Ukraine with weapons shipments, they have sent no troops.
Zelensky said in a video address that "the world is strong enough to close our skies" and this weekend urged US officials help his country obtain warplanes to fight the invasion and retain control of its airspace.
NATO countries have ruled out policing a no-fly zone, which would bar all unauthorised aircraft from flying over Ukraine.
Taiwan's fears grow over ambiguous response to Ukraine
By

Eryk Bagshaw
The United States and Australia should formally declare they would join a war over Taiwan, according to a senior member of Taiwan's defence committee, who has warned that Russia's invasion of Ukraine shows ambiguity can lead to catastrophe.
Wang Ting-Yu, one of the leaders of the committee responsible for assessing Taiwan's defence policies and declarations of war, said the bombing of Ukraine "may cause a chain reaction" and that it was time to let "Beijing know there is a red line".
Wang, who met with former US secretary of state Mike Pompeo on Friday in Taipei and has discussed Taiwan's response to Ukraine with President Tsai Ing-wen, is the first senior Taiwanese official to call for an end to "strategic ambiguity" which has helped keep the peace in the Taiwan Strait and allowed the West to develop economic ties with China for five decades.
The Ukraine-Russia crisis in photos
By

Hanna Mills Turbet
The saying "a picture tells 1000 words" rings truer than ever during times of war.
Ukrainians Lesya Filimonova and Valeriy Filimonov were married close to the frontline in Kyiv on Sunday (local time). The Washington Post reported the couple wore non-traditional wedding attire: the groom in a helmet and the bride in fatigues.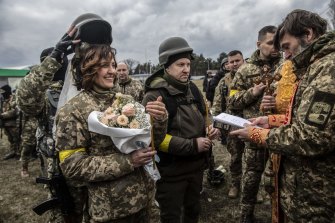 View our latest Ukraine picture gallery, courtesy of our image partners, here.
Sydney 'still in the firing line', meteorologist says
By

Laura Chung
Large parts of NSW will continue to face rain and flooding risks in the coming days, as more than 35,000 people remain out of their homes.
There are currently 22 flood warnings across the state, including for the Hawkesbury-Nepean region where major flooding is expected.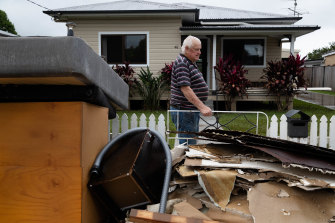 Weatherzone meteorologist Joel Pippard said in the 24 hours to 9am on Monday there had been widespread rainfall of 30 to 90 millimetres.
Loading
"In terms of today, Sydney is still in the firing line," he said.
An upper low-pressure system is lingering over the state, drawing in cold and tropical air that is resulting in heavy rainfall across much of the state.
Flood-affected areas in the Northern Rivers region and far North Coast are expected to receive more rain on Monday, with 5 to 10mm predicted for Lismore and 5 to 15mm for Grafton. Meanwhile, Sydney can expect 45 to 90mm of rain, while Penrith could experience 50 to 100mm.