A company that isn't betting it all on the metaverse is perfect for risk-averse investors
Author of the article: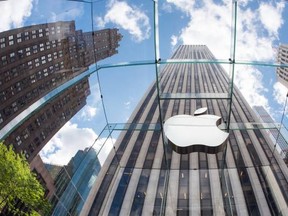 This article was created by MoneyWise. Postmedia and MoneyWise may earn an affiliate commission through links on this page.
Advertisement
This advertisement has not loaded yet, but your article continues below.
Everyone's talking about the metaverse — an immersive world where people gather virtually.
Investors, in particular, are showing a growing interest in metaverse stocks, fueled largely by Facebook's name change to Meta Platforms last October.
There are many names to choose from. Other than Meta, Wall Street touts companies like Unity Software, Nvidia and Roblox as top metaverse plays.
Even before the term "metaverse" started making headlines, several of these businesses had already come out with technologies incorporated into the metaverse, such as augmented reality and virtual reality headsets.
But being early doesn't guarantee anything.
There's one overlooked giant that hasn't released a single AR/VR product, but that could end up being a big winner in the space: Apple.
Advertisement
This advertisement has not loaded yet, but your article continues below.
Its shares were recently trading around US160 apiece, but if you can't jump in at that price point, consider buying fractions of shares through a new investment platform.
Hidden in plain sight
With a market cap of US$2.6 trillion, Apple is currently the largest company in the world. But according to investment banking advisory firm Evercore, metaverse could make the iPhone maker significantly larger.
Evercore points out that Apple has been working on virtual reality products for over four years, has more than 100 patents in the field and has made a few metaverse-related acquisitions that have gone largely unnoticed by investors (such as NextVR and SensoMatic).
Evercore expects Apple to launch virtual reality headsets and/or Apple Glass — AR glasses that will bring information straight to your face — in the next six to 12 months.
This advertisement has not loaded yet, but your article continues below.
Article content
"We think investors continue to underappreciate AAPL's potential to innovate and enter new markets where they can leverage and scale AAPL's unique platform and vertical integration capabilities," wrote Evercore analyst Amit Daryanani earlier this month.
Daryanani expects Apple's headset to cost a premium price of US$750 or more. If adoption reaches the same level as the Apple Watch, the product "could contribute US$18.1B to sales and 19c EPS at scale (~4-5 per cent of current estimates)."
If the product turns out to be as popular as AirPods, Evercore says it could boost Apple's revenue by US$38 billion and EPS by 41 cents.
Evercore is maintaining an Outperform rating on the company and recently raised its price target to US$210. With Apple shares currently trading at roughly $160 apiece, that represents upside potential of over 30 per cent.
This advertisement has not loaded yet, but your article continues below.
Article content
A massive installed base
Some might argue that Apple is too late to join the game since there are already several AR/VR products on the market. But the company has never needed to be the first mover in order to dominate a market.
Case in point: smartwatches. The first Apple Watch was released in April 2015, a time when several big players — including Samsung and Sony — already had smartwatches on the market.
Yet Apple's product quickly became the best-selling wearable device. And that dominance continues to this day. According to Counterpoint Research, Apple has a 52 per cent market share in global smartwatch shipments.
Apple wins because of its massive — and loyal — customer base.
In early 2021, management revealed that the company's active installed base of hardware had surpassed 1.65 billion devices, including over 1 billion iPhones.
This advertisement has not loaded yet, but your article continues below.
Article content
Millions of loyal Apple users simply don't want to live outside of the Apple ecosystem. And when new products come out, they line up to buy them.
That installed base could lead to Apple's success in the metaverse, too. A Morning Brew-Harris Poll survey in 2021 showed that 35 per cent of respondents picked Apple as their first choice for an AR/VR device. (And that's without a product even in the market.)
Safer bet on the metaverse
Apple will never be a pure play on the metaverse. But that's exactly why risk-averse investors should consider it.
The company's current business model is well-established and profitable. Even if Apple's metaverse endeavour turns out to be less fruitful than expected, you still wind up owning a high-quality, high-growth behemoth that isn't going anywhere.
This advertisement has not loaded yet, but your article continues below.
Article content
In other words, the metaverse is just gravy for Apple.
In the company's fiscal Q4 ended Sept. 25, Apple generated US$83.4 billion of revenue, marking a 29 per cent increase year over year. Earnings per share rose by an even more impressive 70 per cent from a year ago, to US$1.24.
Apple also has a war chest of cash worth roughly US$190 billion.
A huge cash pile means the company can return a substantial amount of money to shareholders through dividends and buybacks while investing in the next big thing.
Jitters in the tech market
As of Jan. 25, Apple's share price was down around 11 per cent in the past month. Many would say that makes it a more attractive buy, but if you're looking to hedge against a jittery tech market, you might try what many tech moguls do and invest in some fine art .
Thanks to a new trading platform, everyday investors without millions to spare can get in on blue-chip art as well.
This article was created by Wise Publishing. Wise is devoted to providing information that helps readers navigate the complex landscape of personal finance. Wise only partners with brands it trusts and believes may be helpful to the reader. This article provides information only and should not be construed as advice. It is provided without warranty of any kind.
Financial Post Top Stories
Sign up to receive the daily top stories from the Financial Post, a division of Postmedia Network Inc.
By clicking on the sign up button you consent to receive the above newsletter from Postmedia Network Inc. You may unsubscribe any time by clicking on the unsubscribe link at the bottom of our emails. Postmedia Network Inc. | 365 Bloor Street East, Toronto, Ontario, M4W 3L4 | 416-383-2300