New Astoria, Oregon arcade and taproom Galactix serves up space age sci-fi nostalgia and gaming culture alongside an extensive beer and cider taplist at an underground location.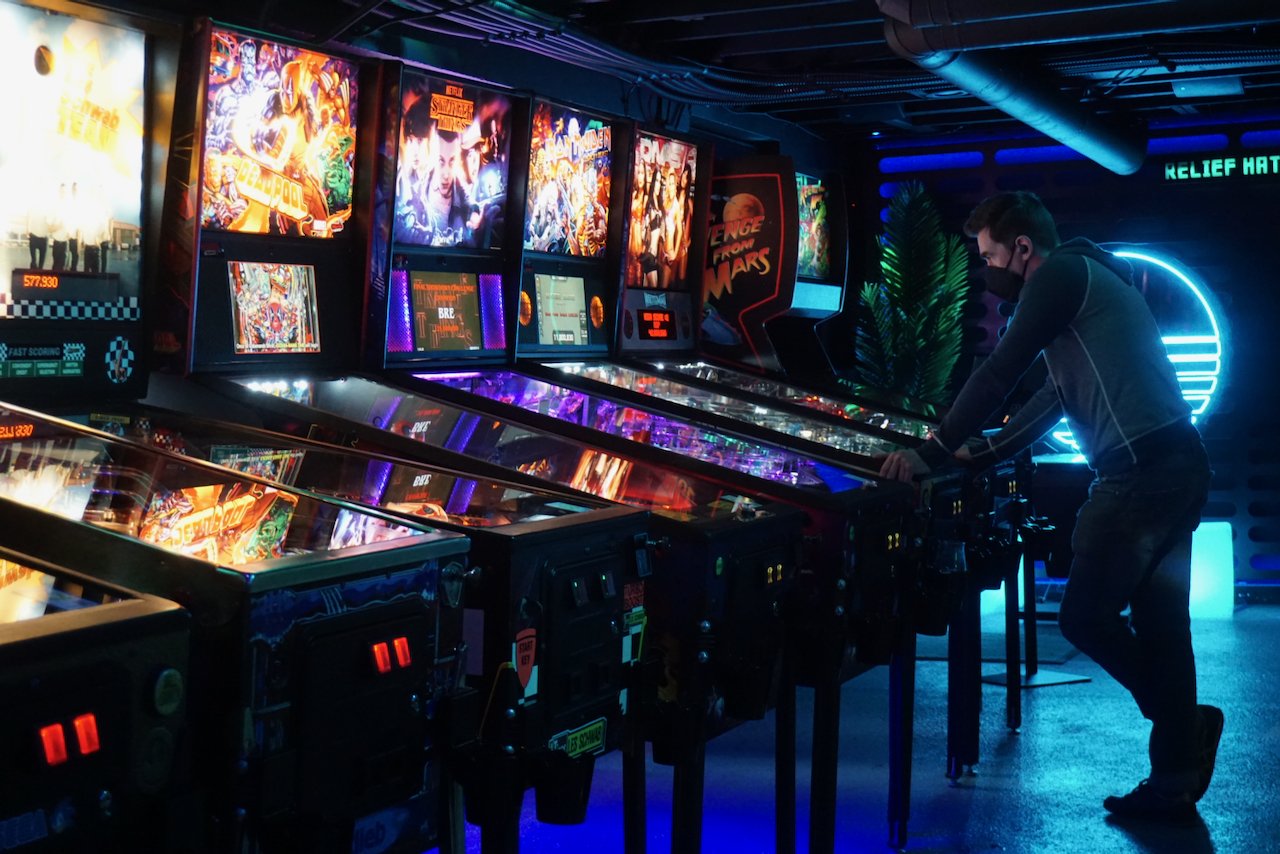 Galactix is the new business from Reveille Cider Works owner Jeremy Towsey-French, and creative entrepreneurs Marcus and Michelle Liotta. The bar fuses pop culture touchstones from Star Wars to The Last Starfighter, with old school games and pinball machines and a modern taplist that represents the best of current beer and cider culture. It's all decked out in a spaceship like interior hidden right under the noses of the busy shopping district of downtown Astoria.
Marcus and Jeremy first met at Reveille in 2018, they quickly bonded over a shared background in theatre and love of beer and cider. They both wanted to bring theatricality into a new business, and fusing it with northwest beverages and gaming just seemed to fit. Marcus Liotta has been collecting vintage arcade cabinets and pinball games for more than two decades, and augmented what he already had with new games and the latest in pinball technology for Galactix. The lineup features many unique game titles that you won't find anywhere in the region –some can't be found anywhere else West of the Mississippi, but to access them you need to download a special app to play, because all the games are cashless.
The name Galactix is inspired by the constant human desire to explore the unknown regions of outer space. "Our concept is to immerse patrons in an experience where they see themselves as passengers onboard the Galactix, a star cruiser, setting out for a tour of the outer nebulas. When you enter the building you're essentially entering the entertainment deck of Galactix," says Towsey-French.
Going from the cold and misty Astoria weather coming off of the Columbia River just 2 blocks away to the interior of Galactix is a transportational experience that feels like getting beamed up into the USS Enterprise. It may take a few moments for your eyes to adjust to it's darkly lit and all black windowless interior. Shadowy corners are punctuated by neon colors, flashing lights, and glowing surfaces, with the feeling that you are entering a secret members only underground club straight out of the 90's Angelina Jolie classic Hackers. In reality it's a chill but moody adult playground that is all-ages friendly up until 5pm if the kids can appreciate a retro button masher, 8-bit graphics, and lots of callbacks from before their time.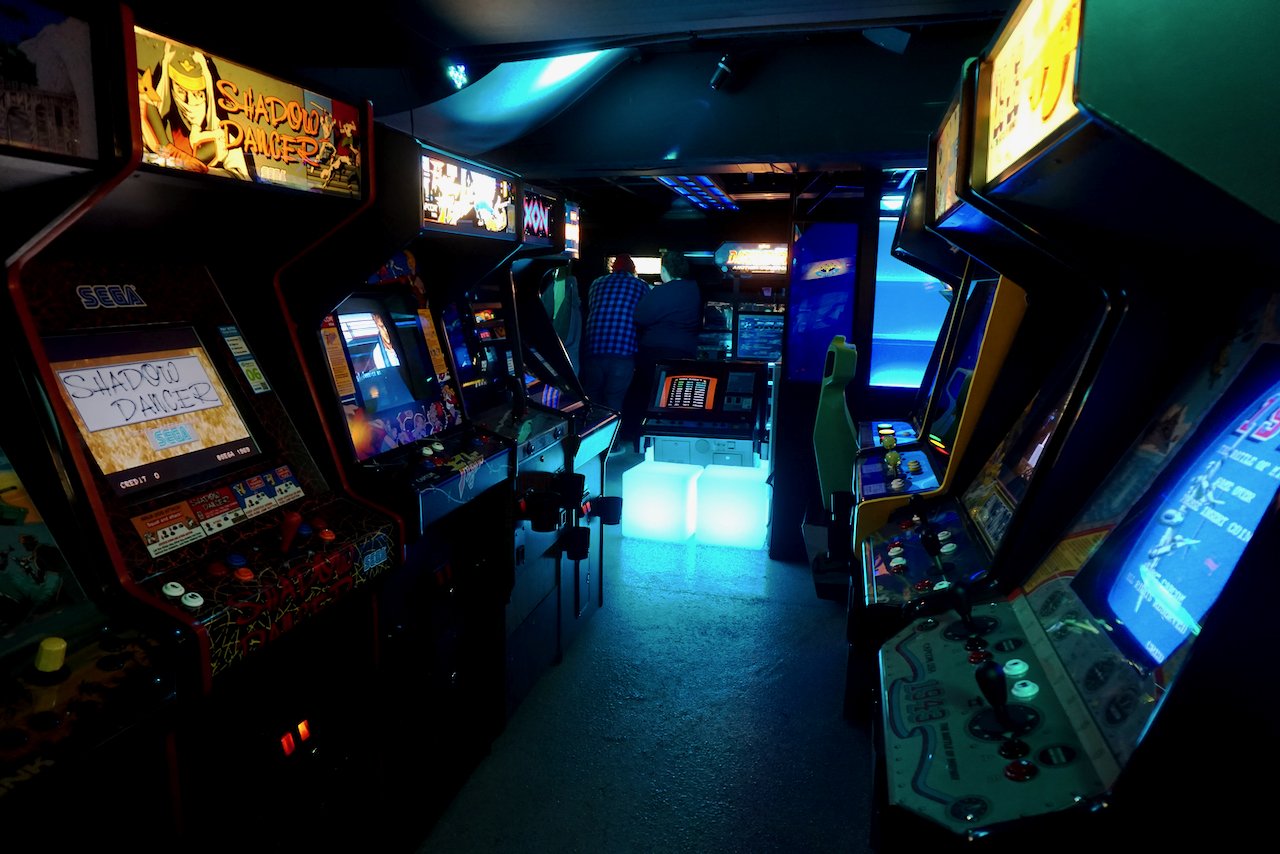 "When you step inside, you're immersed in design (physical, lighting and sound) that is unfamiliar and yet somehow eerily reminiscent of a time and place that may have only occupied your dreams," is how Towsey-French describes it. He and Mariotta collaborated with a Portland based design/build firm to conceptualize the space, which is filled with interesting choices and an amazing attention to detail in it's creation. The primary design inspiration came from the Star Wars universe and Blade Runner, pill-shaped cutouts and jutting edges are reminiscent of the original trilogy, and the very dark interior punctuated by pink and blue neon is similar to the Vaporware culture of Ridley Scott's 1982 film.
The otherworldly immersion doesn't end with the visuals, the owners went out of their way to create a custom soundscape to. The music has more than 4,000 vaporwave, synthwave and retrowave tracks, carefully chosen and curated to sound foreign and familiar at once. To capture this sensation Marcus Liotta used his own audio production experience and set up unique sound zones within the space, each with high-end commercial speakers and subwoofers that would pump out their own soundtracks.
This vision was realized in the form of more than 60 unique sound cues featuring an array of voice actors, Marcus and Jeremy both contributed several voiceovers as well as a network of youtube content creators. Layered over and under are environmental sound effects and simulated battle sequences. The sound cues are played in random sequence every hour and categorized into advertisements, public information announcements, emergency notices and crew communications. Each sound cue also triggers a shift in house lighting, activating two specialized lighting instruments while shifting primary house light colors that signify the type of announcement (e.g., emergency announcements trigger red-hued house lights).

The attention to detail in the taproom is superb, from pulsing pinhole LED lights simulating stars, to a swirling projection of the outer reaches of space inside the bathroom. The bar area has cords hanging down to the glowing table tops, the back bar tap handles are lit like a Tron speeder bike, retro cartoons are the only thing playing on TV, unless you count the small monitor webcam display showing a grainy live feed of how many slices of pizza are left in the hotbox.
The 24 strong taplist at Galactix is curated by the staff, with the desire to feature as many local beers and ciders as possible along with regional favorites. Half the taps are reserved for cider, both Reveille Cider Works and other favorites like Bauman's Cider are heavily featured. The beers have plenty of Astoria representation from Fort George, Buoy, and Reach Break, but also favs like Reuben's Brews and Gigantic Brewing. Galactix loves to work with self-distribution brands, or when they can work with local distributors like Fort George Distribution and get access to both easy drinking mainstays and rarer beers like the currently featured Love Lost at Sea barrel-aged barleywine from Buoy. The bar keeps a current food and drink list on the website that is updated daily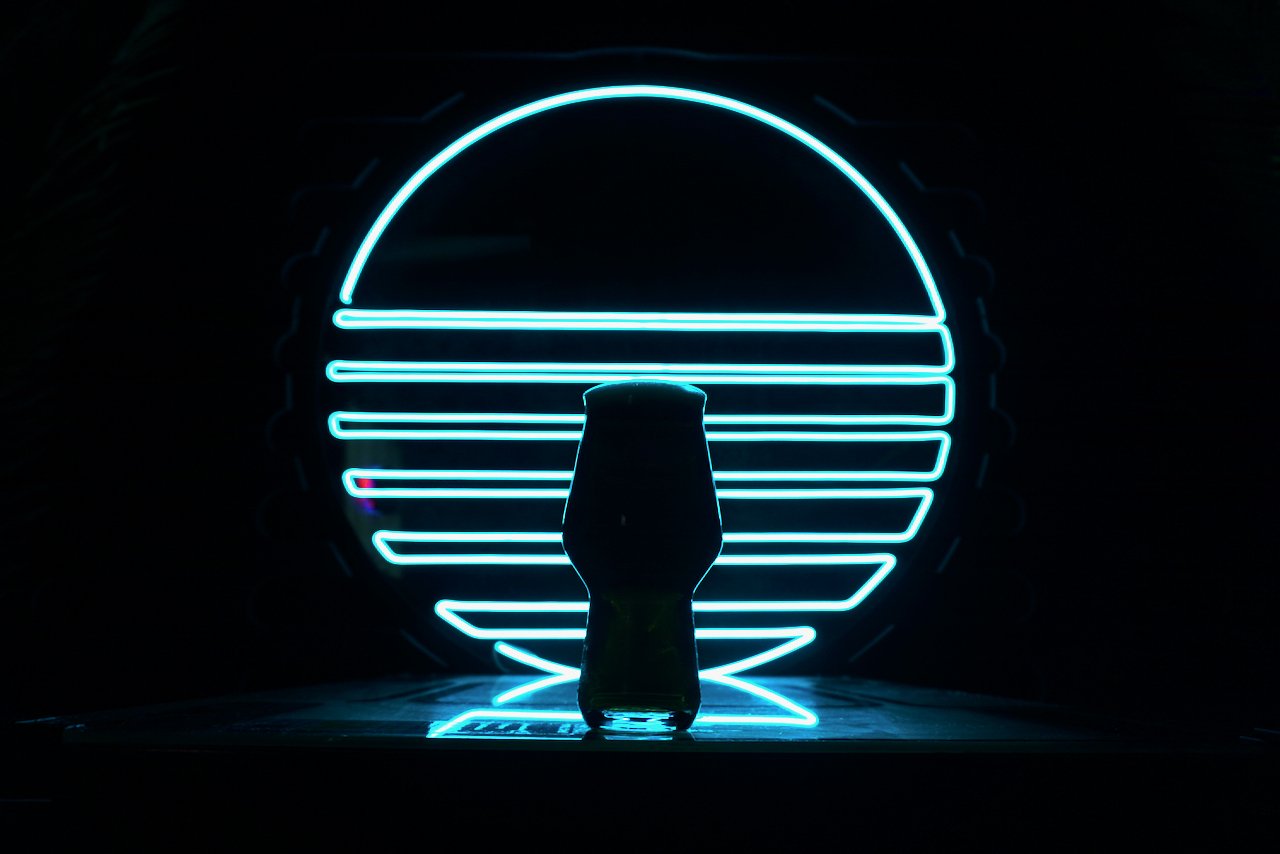 Galactix welcomes passengers ages 13 and older until 5pm each day. Games vary in price from $0.50 to $1.00 but don't accept cash or quarters, get the PayRange app (from the Apple app store or Google Play store) prior to playing any games. After registering the app, your first game is free.
GALACTIX – 254 9th St (Subterranean Level), Astoria, Oregon, 97103 / (831) 772-2349