PC hardware makers releasing giant monitors is nothing new in the industry. These Big Format Displays offer larger screen space with some of the best tech you can find making them the best of both worlds for PC and console gaming. With the PS5 and Xbox Series X boasting 4K 120Hz support, gamers are looking beyond traditional TVs for their buying options and this Gigabyte Aorus FV43U has been designed with that in mind.
The FV43U boasts a TV-like design but best of all, you don't need a TV license to buy one. That's because this is not a TV but rather a large monitor. From a technical standpoint of course. It packs 2 HDMI 2.1 ports, has a fantastic response time and makes use of quantum dot technology to deliver some decent brightness and colour range. While everything the FV43U does can be found elsewhere, this monitor feels like a decent package and the best of both worlds when it comes to console and PC gaming.
Watch our Gigabyte Aorus FV43U Gaming Monitor Review Below
I need to stress that 43-inches might be a great size for console gaming but it does feel awkward for PC gaming. This monitor is just a little bit to big to have on a desk in front of you as you play Apex Legends of COD. You'll need to have a very specific setup to make this display work for both platforms. Either you go with a wireless keyboard and mouse or the desk must be big enough to have a distance between you and the screen. Else prepare yourself for some stiff neck.
The FV43U is a 43-inch 4K display. It packs a 144Hz refresh rate with FreeSync support, built-in speaker, HDR support and more. Some of the key features include the following:
Display: 43-inch UHD 3840 x 2160
Refresh Rate: 144Hz
Brightness: 1000 nits
Variable Refresh Rate: AMD FreeSync
Display Tech: Quantum Dot
DCI-P3: 97%
Ports: Audio Line-Out / Headphone Jack / 2 x HDMI 2.1 / DisplayPort 1.4 / USB Type-C / USB Upstream / 2 x USB 3.0
Speakers: Space Audio Dual Speakers
Game Features: Black Equalizer / Aim Stabiliser Sync / PiP / Gaming Dashboard / Counter and Timer
While most gaming hardware boasts bright RGB lights and sleek sharp corners, the FV43U is quite plain and simple when it comes to design. If someone were to see it on your TV stand, they wouldn't be able to tell the difference between it and say an LED TV from LG. In the box, it comes nicely packed and ready to go. Putting it together saw me take the two legs out of the box, slide them into the bottom of the TV and screw them in using the supplied screws. The box also comes packed with a USB 3.0 cable, DisplayPort and HDMI cable. The display itself uses a standard kettle cord. I didn't get one in the box. Thankfully I have dozens laying around.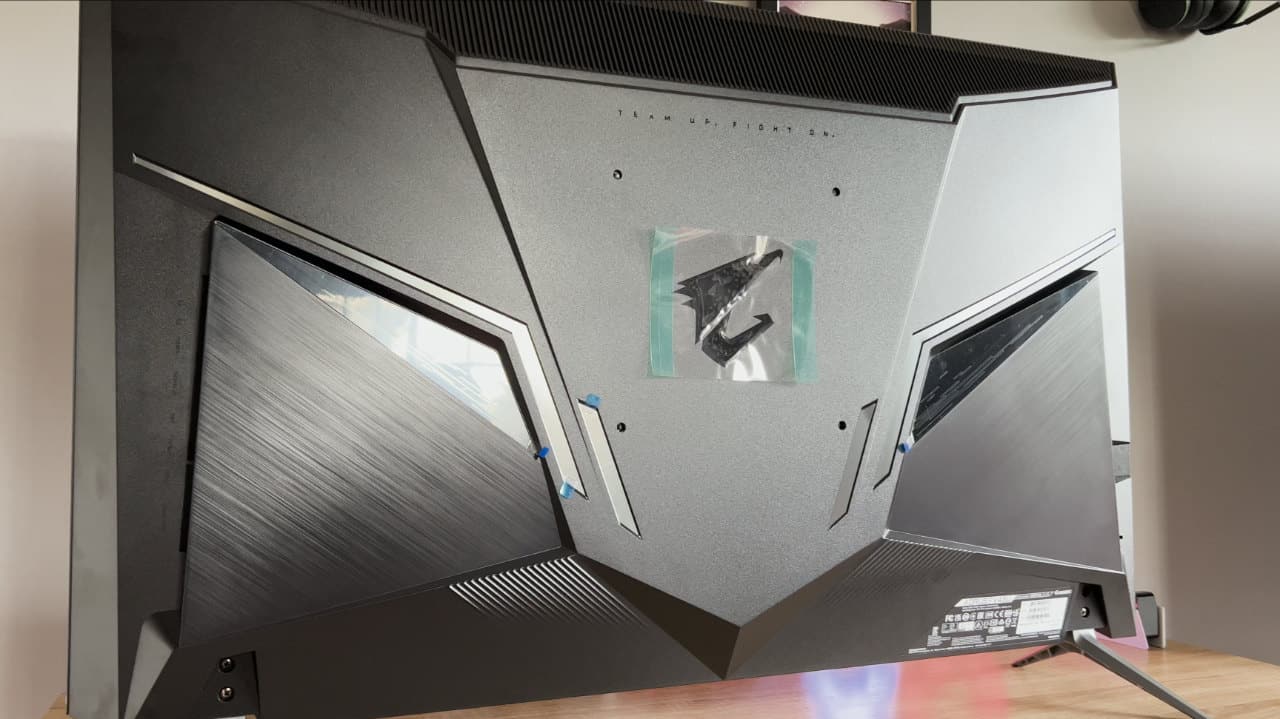 There's no RGB on the display at all and the legs are standard two-feet fork legs. This display is meant to go onto a desk or shelf and stay there. This means there's also no tilt function but it does support VESA mount so you could always get creative here and find a rotate stand that attaches to the mount. I did this to my Bravia TV and it changed by entertainment unit. I highly recommend third-party VESA mounts.
On the back, there's a giant Aorus logo in the centre and all the main ports are on the left-hand side. Besides the power port on the right. There's no cable management at all on display. So you'll also have to get creative here if this bothers you. It bothers me so I used my handy velcro tape to neatly tuck everything away.
The bezels on the display are 1.3cm thick on the top and sides. The bottom bezels are larger due to the speakers packed into the panel. It is 17cm thick with the stand but the panel itself is only 8.7cm so if you are mounting it, that is quite slim.
As for the overall build, it is plastic but that helps make it lightweight enough to move about alone. It doesn't feel cheap by any means. While there's nothing groundbreaking here, I don't think there needs to be either. The design and build works for this monitor and it is a great blend between TV and PC monitor.
There's also a remote that comes in the box. While it may be strange to get a remote in a PC monitor box, you must remember that this display is trying to be more than just a PC monitor. The remote helps control the display without the need for the joystick underneath the panel. It is a basic remote that kinda looks like an Android media player remote.
The Aorus FV43U has been designed with console and PC gamers in mind so I tested both during my review. However, before I get to how games perform, let's chat about the overall picture quality of this display. The FV43U is an LED monitor but at the same time, it packs some great tech inside of it that makes its picture quality rather fantastic – to some degree.
The display includes a local dimming feature that takes full advantage of the Full-Array backlight. While it doesn't perform even close to my Bravia TV that also packs local dimming, it does a decent job. Just don't expect deep blacks here. That's because the Full-Array backlight only features a 4 by 2 grid. This means there are only eight zones on the monitor that is able to control their dimming individually. When you have a large white logo on the display, the surroundings are black enough but smaller objects result in the panel lighting up on the edges.
There are also no levels to adjust for this local dimming mode. You can either disable or enable it for non-HDR modes and when using HDR, it is enabled by default. To be frank, the local dimming feature on this display makes a difference but it is also horrible at the same time. You'll mostly always see the display on regardless of what you're doing. Even if it's trying to dim the darker areas. We are far off from this reaching this local dimming quality of a full TV.
While the quantum dot technology might fall flat with the local dimming, it does perform very well when it comes to contrast, brightness and colour. With local dimming enabled, contrast hit over 5800:1. Peak brightness in SDR reached 720 nits in a 100% window and 650 nits for HDR. Of course, this changes when playing games and watching content. There are four HDR modes and the HDR1000 mode delivered the highest peak brightness of 670 nits. Game Mode was slightly lower at 640 nits but you'll probably not notice the difference here.
In terms of uniformity, it was great on black. I did have a slight LED bleed on my review unit that showed at the bottom of the display. Given that I opened this box new, it might have been a manufacturing issue. As for grey uniformity, it was also quite good. There is some noticeable clouding on some parts of the display but better than most LEDs on the market.
Once calibrated, the overall picture quality is phenomenal. Gamma was flawless, colours were accurate and the general quality blew me away. It also covers over 98% RGB gamut for both SDR and HDR.
My only gripe with the display is the reflection. The panel has a semi-gloss coating and it is quite reflective in the daytime. You'll need to keep this in mind when positioning the monitor.
I also need to mention that the monitor has some hefty speakers. Gigabyte calls these Space Audio and they are loud and punchy. I did have an issue where the monitor kept showing it was on 1 volume and it was quite loud. Too loud to be on 1 volume so this was an issue. I am not sure if this was a bug or had something to do with my setup but it happened across all my devices.
Now onto the meat – gaming. The monitor packs 144Hz refresh rate with FreeSync and G-Sync support which makes it a dream for PC gaming. However, its 4K120Hz mode is also an attractive steal for console gaming. Keep in mind that while it is not G-Synch certified, it works with NVIDIA's Compatible Mode.
With that being said, it does have a high input lag that might be okay for your everyday gamer but for pros, this monitor is definitely not an option. I measured 22ms at 60Hz. With VRR enabled, this dropped to 14ms. The lowest I measured was 11ms at 4K 30Hz.
On Xbox Series X, the monitor was a perfect match. Mainly thanks to the wide range of support on the console. The PS5 has yet to get its VRR update. Using the HDMI 2.1 port, both consoles were able to play supported 120Hz games without a hitch. Games looked great thanks to the monitor's excellent panel. Images were bright, worlds were colourful and detailed and when using the 120Hz mode, games felt more responsive. Keep in mind that the monitor doesn't support Dolby Vision so you can't use the Dolby Vision gaming mode on the display with the Xbox Series X.
PC gaming was also just as good. I tested most games using the Gigabyte RTX 3050 with DisplayPort and they ran as good as the GPU could power them. The monitor was at its best when maxed at 144Hz but keep in mind that you'll need a GPU that can do this. Especially if you're looking to take full advantage of the 144Hz and 4K.
Overall, the Gigabyte Aorus FV43U monitor is a great display. It blends PC gaming and console gaming together thanks to its decent size and fantastic performance. It falls short on a few technical tests and might require you to rework your PC seating arrangement but if you're willing to go that far, the display will reward you with some excellent gaming.
The monitor might be a tough sell when compared to say an actual TV. The LG 48-inch OLED for example is R17,000 in comparison to this R25.000 and does mostly the same stuff as this display. It doesn't have 1440Hz, rather 120Hz but it is bigger, packs a much better panel and smart features too. It is only fair here to compare apples with apples and that LG is probably this display's biggest competition. However, if you want a strictly gaming monitor, this is it but given the target market for this display, I won't be surprised if users opt for a TV instead. This FV43U's price tag is just a little too high for what it offers.
This Gigabyte Aorus FV43U monitor review is based on a loan unit sent to me by Gigabyte. It retails in South Africa for R24,999.
Gigabyte Aorus FV43U Gaming Monitor Review
Display –

8/10

Performance –

7.5/10

Design –

7.5/10

Value –

7/10
Summary
The Gigabyte Aorus FV43U monitor packs some serious performance but sadly it is trying to be a TV and that is its biggest downfall. There are better TVs on the market with cheaper price tags and honestly, better panels.
Pros
Nice design
Decent performance
Great speakers
Cons
Panel is good but not R25k good
Pricey
LED bleed