Estimated read time: 4-5 minutes
There truly is no place like home for the holidays.
It's a gathering place for family and friends. It's where you bake your grandma's famous cookies. It's where you hang your stockings and light the tree. It's where your kids sleep (or don't sleep) as they eagerly await Christmas morning.
Your home is where you make your best memories.
And if you're trying to hunt down that perfect home for your holidays, your Christmas wish can still come true.
Are the holidays a good time to buy or sell a home?
With the busyness of the season, you might be wondering if buying or selling your home during the holidays is a good idea. Well, here's some good news.
"When you sell your home during the holidays, you will face less competition, find more serious buyers, and may even be up for a quicker sales process," writes Donna Fuscaldo in an article for Investopedia.
"It also presents a unique opportunity to create a warm and cozy environment that you can't present during the spring and summer months."
No time of the year is as home-focused as the holiday season, so if you've been thinking about buying or selling, right now may be the perfect opportunity.
A home where the family can safely gather
When it comes to finding that perfect holiday gathering place, you don't necessarily need a home with an open-floor concept. In fact, the pandemic highlighted the health advantages of having multiple rooms in a home.
In April 2021, the United States Census Bureau found that 38% of American homes didn't have everything they needed to completely isolate one person if someone became ill. They didn't have enough bedrooms or at least two full bathrooms to make a full quarantine possible. It's no surprise then that the Pew Research Center reports that more Americans now prefer bigger homes.
And if you can't find a home that meets these needs, don't worry. You can work with a professional home builder to design the home of your dreams, equipped with healthy-living solutions.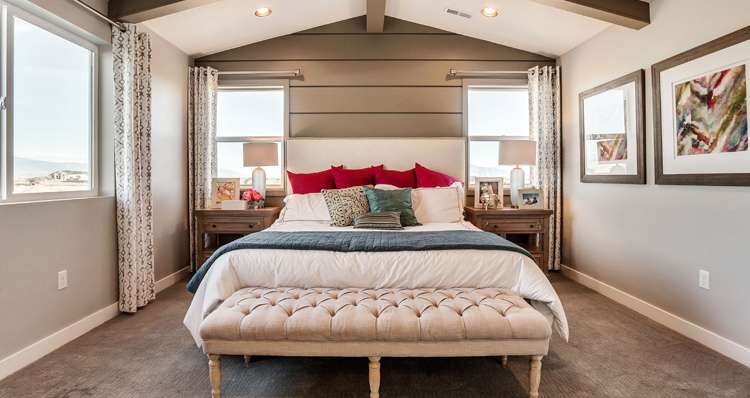 Build a home that fits your lifestyle
Thanks to the pandemic, homes have become more than a place to rest your head at night. A good chunk of people's daily activities now happen within their own walls. Adults need office space to telework, kids need room for virtual learning — and it doesn't hurt to have your own gym to burn off all those Christmas cookies!
Fortunately, many of these lifestyle solutions are already built-in to new homes. Last year, Forbes reported that some homebuilders started offering a "home office concept" to meet the needs of those continuing to work remotely. This means that you don't have to worry about trudging through the snow and sleet to get back to the office once the holidays are over; You simply have to walk a few steps.
Getting a home that fits your family's lifestyle is absolutely one of the best gifts you can give yourself this year.
A fresh start for the new year
As you look forward to a new year with fresh beginnings, it's a good time to reevaluate what you want in a home. After all, everything inside is a reflection of the people who live there.
German philosopher Martin Heidegger wrote in his essay, "Building Dwelling Thinking," that "to dwell" means more than just taking shelter. It means "to cherish and protect, to preserve and care for."
Your home is your sanctuary, but it's also the place where your family will do the most learning and growing. Make it a place that's conducive to the goals you set.
Get exactly what you want for Christmas this year
In the home buying and selling process, it's important to remember that you aren't alone when it comes to finding that perfect abode for your family.
A good builder understands the importance of helping customers find or build the home of their dreams. That's why Woodside Homes has increased their touchpoints with customers throughout the home buying and building process to ensure they get exactly what they want. Guiding them through the process step by step and conducting surveys before and after purchase are just some of the ways builders are satisfying customers' needs.
Make your home Better By Design
Where you live is an extension of who you are. That's why Woodside Homes is committed to going above and beyond when it comes to designing and building your home. Their motto — "Better By Design" — is also a promise. From carefully selecting land to simplifying the home buying process, they're proud to contribute to the memories that will last for years to come in your beautifully designed home.
As styles and concepts change through the years, Woodside Homes will continue to lead the charge in industry innovation. Find your new home or browse their Inspiration Gallery online so you can design your home, your way this holiday season.
×
More stories you may be interested in