One of the key drivers in the world of cryptocurrencies is increasing corporate adoption. From MicroStrategy (NASDAQ:MSTR) to Tesla (NASDAQ:TSLA) and Block (NASDAQ:SQ), there are already a number of companies leading the charge. Recent KPMG crypto news offers investors yet another big backer to celebrate.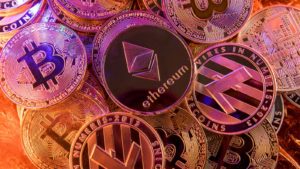 Source: Shutterstock
Today, it was announced that the Canadian arm of accounting firm KMPG has added Bitcoin (CCC:BTC-USD) and Ethereum (CCC:ETH-USD) to its treasury. It will reportedly add these cryptos to its balance sheet via Gemini's execution and custody services.
As digital assets evolve, corporate adoption is likely to remain a hot-button topic. Let's dive into some particulars of this news, to see why investors are bullish on crypto today.
What's This KMPG Crypto News?
Perhaps the timing of this announcement was coincidental. However, the crypto market is on fire right now, with the market surging 5.8% to more than $2 trillion. Crypto is back, and it appears KMPG wants a piece of the action.
The addition of crypto by KMPG Canada is yet the latest bullish take on this sector. The company notes it is likely to make further investments in crypto in the future.
As part of its analysis, it noted that a "rigorous risk assessment" was completed via KPMG's governance committee. In other words, this wasn't a snap decision. Rather, this was a decision the company had been thinking about for some time.
Time will tell just how much KPMG will benefit from these purchases. Right now, crypto appears to be in a full-on bull market again. The winds of sentiment have shifted, providing bulls with growth.
However, we've seen how volatile this space has been. Accordingly, those looking to follow KPMG Canada into the crypto world should be prepared for such volatility.
On the date of publication, Chris MacDonald did not have (either directly or indirectly) any positions in the securities mentioned in this article. The opinions expressed in this article are those of the writer, subject to the InvestorPlace.com Publishing Guidelines.