1 min ago
ICRC says Mariupol evacuation attempts today have failed
From CNN Staff
The ICRC tweeted a statement on Sunday stating that evacuation attempts in Mariupol, Ukraine, have failed.
The ICRC wrote: "People are living in terror in Mariupol, desperate for safety. Today's attempt to start evacuating an estimated 200,000 people has failed. The failed attempts underscore the absence of a detailed and functioning agreement between parties to the conflict."
See their tweet here:
"People in Mariupol and in other places across #Ukraine are living in desperate situations," the ICRC continued in its Twitter thread. "They must be protected at all times. They are not a target. People urgently need water, food, shelter. The basics of life. We need safety guarantees to be able to bring them aid."
25 min ago
A strike on a Ukrainian village wreaks unimaginable human tragedy
From CNN's Gul Tuysuz in Markhalivka
As the Russian invasion of Ukraine enters its 11th day, a CNN team in Markhalivka, southwest of Kyiv, spoke to a victim of the conflict.
Igor, who is 54, said that his 12-year-old daughter — who had disabilities and used a wheelchair — was killed in a strike that hit their village.
Igor's wife, mother-in-law, two sons-in-law and his wife's friend also died. Two of his grandchildren survived the attack, along with his cat, Marsik.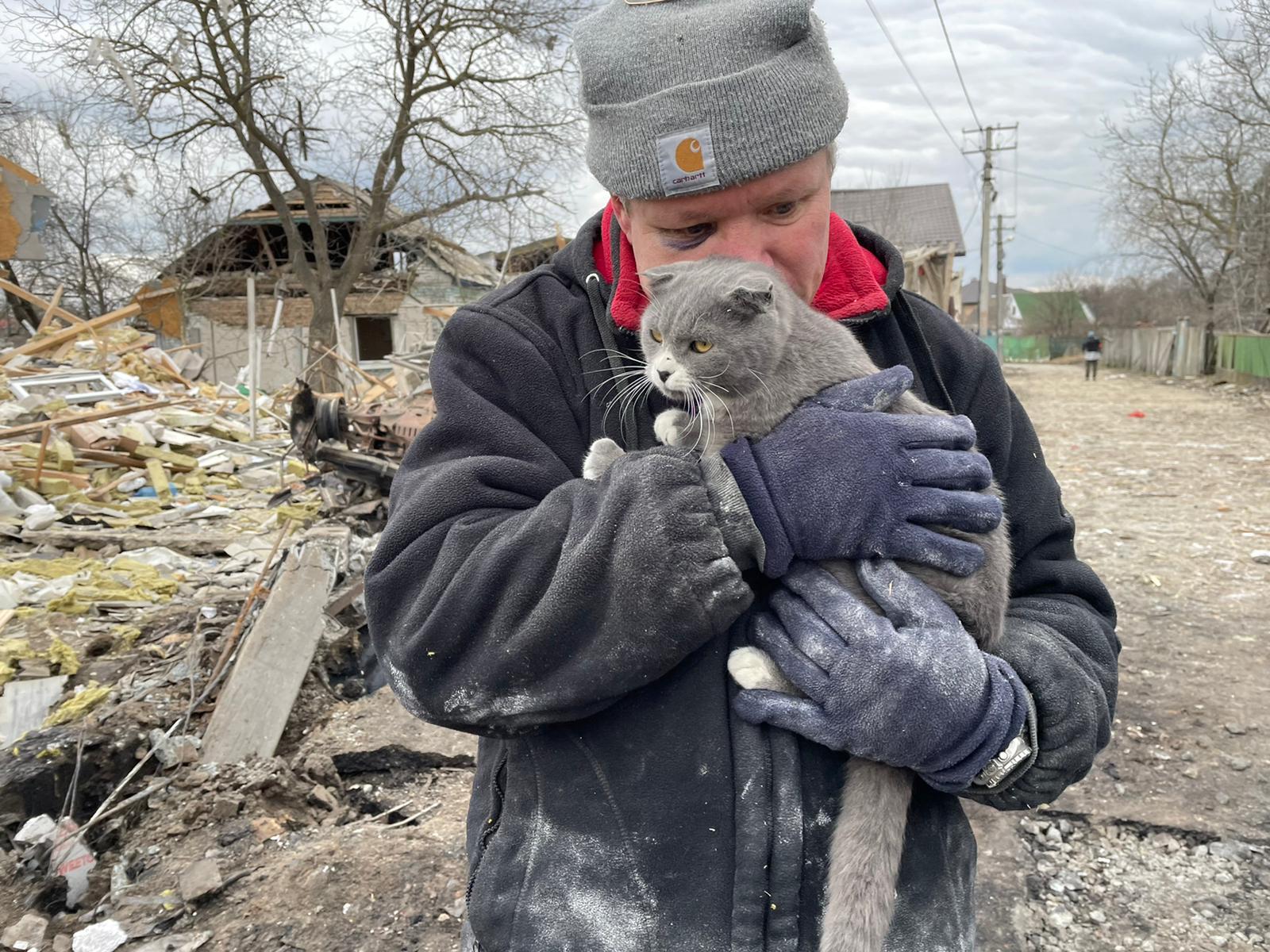 41 min ago
Here are the latest developments in Russia's invasion of Ukraine
Ukrainian President Volodymyr Zelensky has urged his compatriots to keep up their resistance against Russian forces, as the invasion enters an 11th day.
Here's what you need to know:
Children killed at checkpoint: Two mortar or artillery shells hit a checkpoint in the suburb of Irpin, northwest of Kyiv, Ukrainian authorities said, and two children were among the victims.
Civilians trapped: Concern was mounting Sunday for the civilians trapped in the besieged southeastern Ukrainian cities of Mariupol and Volnovakha. Mariupol has been without power for five days, is out of water, and mobile networks are down, according to the city's mayor, who on Saturday added that they are unable to recover bodies as Russian strikes bombard the city.
Refugee crisis: More than 1.5 million people have crossed from Ukraine into neighboring countries in 10 days, UN refugee agency commissioner Filippo Grandi said Sunday. In a Twitter post, Grandi called it "the fastest growing refugee crisis in Europe since World War II."
Russia is preparing to attack port, warns president: In a Facebook address, Ukrainian President Volodymyr Zelensky said Russia is preparing to bomb Odessa, a port city on the Black Sea in southern Ukraine.
Kyiv still rocked by bombardment: Heavy shelling was reported to the west and northwest of Kyiv on Sunday morning. The impact of explosions was heard by CNN teams in Kyiv and in rural areas to the southwest.
19 min ago
Convoy of humanitarian aid ready to set out for besieged Mariupol
From CNN's From Tim Lister and Olga Voitovych
Ukrainian authorities say a convoy of buses to evacuate Mariupol residents is to leave the central city of Zaporizhzhya on Sunday. 
Officials say the column has assembled in Zaporizhzhya, three hours from Mariupol, a port city of some 400,000 people.
Oleksandr Starukh, head of the Zaporizhzhya Regional Military Administration, said there "was an agreement reached yesterday between our side and the other that today there would be a second attempt of humanitarian corridor out of Mariupol. As per the agreement while buses evacuating people go out from Mariupol other buses and humanitarian goods vehicles will move from Zaporizhzhya towards Mariupol."
"We are supposed to accept a group of people from Mariupol in Zaporizhzhya to accommodate them and provide assistance, evacuate some of them further in Ukraine," Starukh said.
Andriy Ignatov, a representative of the Mariupol City Council, said the violence continued Sunday in and around Mariupol. 
"The city administration of Mariupol is working on getting the green corridor, our government is working on all levels, so let's hope that today the whole convoy can make it. Because we were getting ready to do it yesterday, but unfortunately our enemy or opponent did not let us evacuate people, although people were already getting in lines ready to evacuate. I hope today we'll have a breather that will allow us to evacuate civilians."
40 min ago
Vynnytsia airport has been destroyed, says Zelensky
From CNN's Stephanie Halasz
Ukrainian President Volodymyr Zelensky said Sunday that the airport in Vynnytsia has been destroyed.
Zelensky, on camera in a video posted to Twitter, says: "I was informed just now about a rocket strike against Vynnytsia. 8 rockets.
"Against our peaceful and goodhearted Vynnytsia which has never threatened Russia in any way. A rocket strike – cruel and cynical. The airport has been fully destroyed."
"They continue to ruin our infrastructure, our life, which we have built, and our parents, and grandparents, many generations of Ukrainians.
We repeat everyday – close the skies over Ukraine. Close to all Russian rockets, all military aviation, for all these terrorists. Please create a humanitarian zone without rockets, without air bombs.
"We are humans, and it's your humanitarian duty to protect us, protect civilians, and you can do it. If you don't do it, if you at least don't give us airplanes so that we could defend ourselves, that the only conclusion remains – you also want us to be very slowly killed."
This is also the responsibility of politicians of the world, Western leaders, from today and forever," says Zelensky.
Here's some background: Russian President Vladimir Putin said on Saturday that he would consider countries imposing a no-fly zone over Ukraine as participating in the conflict. 
"We will immediately consider them as participants in a military conflict, and it doesn't matter members of which organizations they are," Putin said in a meeting with flight crewmembers of Russian national airlines. 
"It is impossible to do it, on the very territory of Ukraine, it's possible only from the territory of some neighboring states. But any movement in this direction will be considered by us as participation in an armed conflict," Putin added.
Zelensky and other Ukrainian leaders have repeatedly pleaded with NATO and Western officials to impose a no-fly zone over Ukraine. 
NATO's Secretary General Jens Stoltenberg said on Friday that a no-fly zone is not an option being considered by the alliance.
26 min ago
Turkey's Erdogan tells Putin that an urgent ceasefire would ease humanitarian problems and pave the way for political solution
From Isil Sariyuce in Istanbul
Turkish President Recep Tayyip Erdogan said that "an urgent general ceasefire would not only ease the humanitarian concerns in the region, but also provide an opportunity to seek a political solution," and urged Putin to "pave the way for peace together," in talks with Russian President Vladimir Putin on Sunday.
According to the Turkish presidency, Erdogan said that Turkey "stood ready to make all kinds of contributions for the Ukraine problem to be resolved as soon as possible by peaceful means."
Erdogan emphasized the importance of "urgent steps to achieve a ceasefire, open humanitarian corridors, and sign a peace agreement," according to the readout released by Turkish presidency.
The Turkish president mentioned that he was in constant contact with the Ukrainian side and other countries and added "he would continue his efforts for comprehensive negotiations to be held, and to achieve results."
Ukrainian president Zelensky tweeted on Friday that he is having regular talks with Erdogan, and he is: "Grateful to Turkey for the consistent support. Informed about the ongoing aggression and nuclear terrorism on the part of the Russian Federation. We must achieve an end to hostilities."
59 min ago
Zelensky says Russia is preparing to bomb Odessa
From CNN's Alex Hardie in London
Ukrainian President Volodymyr Zelensky has said Russia is preparing to bomb Odessa, a strategically important port city on Ukraine's Black Sea coast.
"Russian people always used to come to Odessa and they only knew warmth and generosity and what's now? Artillery, bombs against Odessa. This will be a war crime. This will be historic crime", Zelensky said in a broadcast address on Facebook.
Switching from speaking Ukrainian to Russian, Zelensky appealed to the Russian people to make a choice "between life and slavery."
People of Russia … this is the time when you can still win over the evil," he said.
"We are Ukrainians. We need peace. We want peace. And for Russian citizens it's not only the fight for peace in Ukraine but for your peace and for your freedom. You used to see it. You knew prosperity…If you will be silent now, then only your poverty will speak for you", Zelensky continued.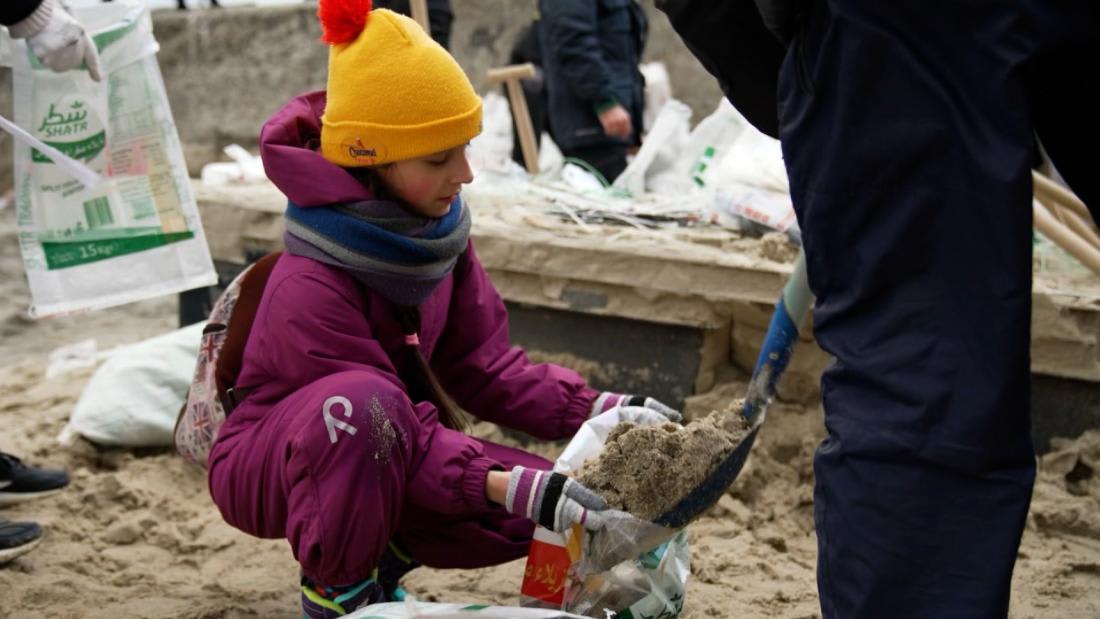 47 min ago
"War is madness," says Pope Francis, calling for peace in Ukraine
From CNN's Delia Gallagher in Rome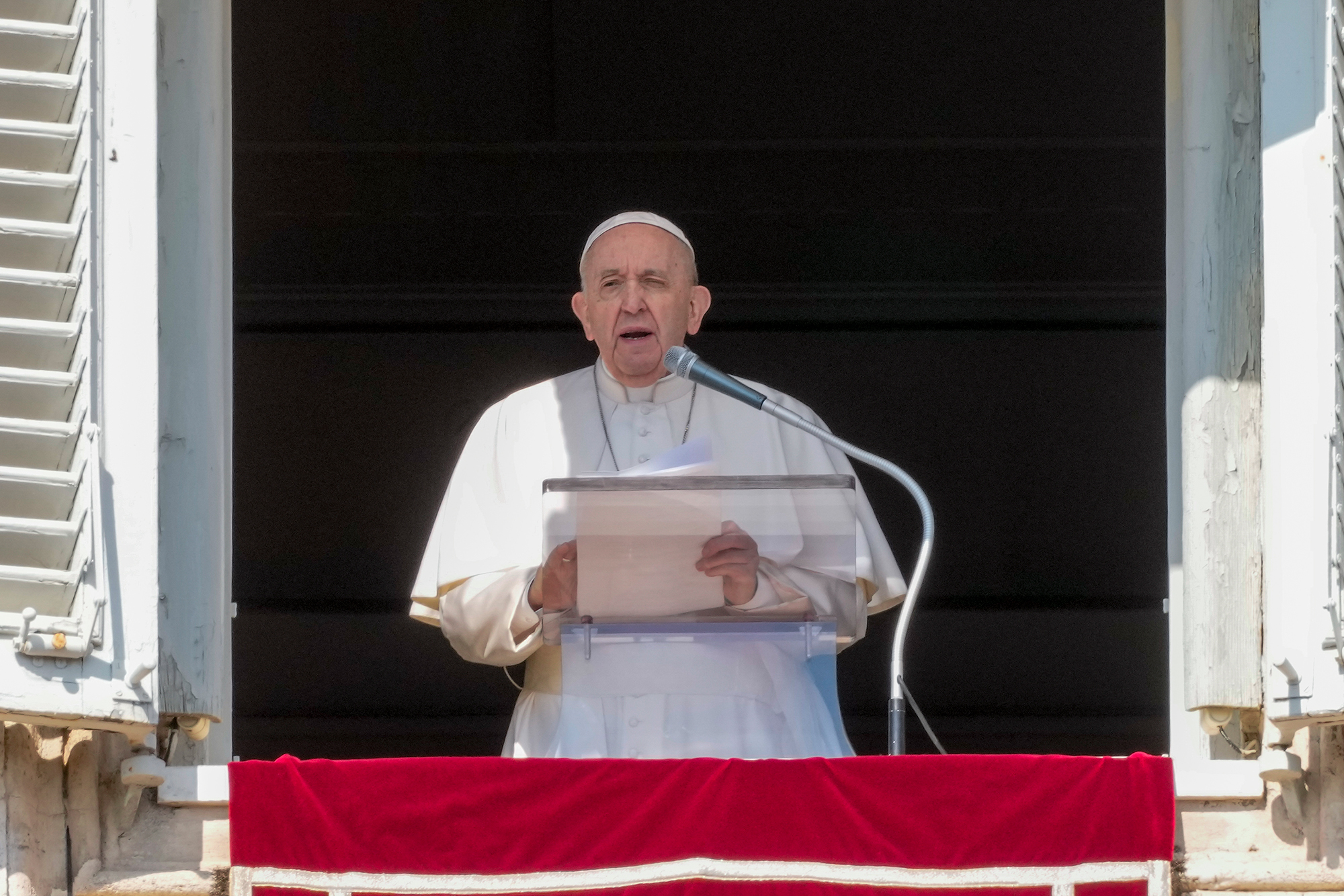 Speaking on Sunday during the Angelus address from his window on St. Peter's Square, Francis said that the Vatican is willing to do "everything" it can for peace in Ukraine.
Francis said he has sent two cardinals to Ukraine to assist humanitarian efforts, "not only as a sign of the presence of the Pope," Francis said, "but of all people who want to say 'war is madness, please stop, look at this cruelty!'"
The Pope called for a "return to respecting international law" and urged that evacuation corridors be opened so civilians can escape the conflict.
In Ukraine a river of blood and tears is flowing," the Pope said. "It is not just a military operation but a war which creates death and destruction!"
Francis also thanked journalists who "risked their lives" to report on the war.
"Thank you brothers and sisters," he said to journalists, "for this service which allows us to be near the drama of the people and to see the cruelty of war."
1 hr 48 min ago
Moldova pledges support for refugees, as it pushes for EU membership
From Colin McCullough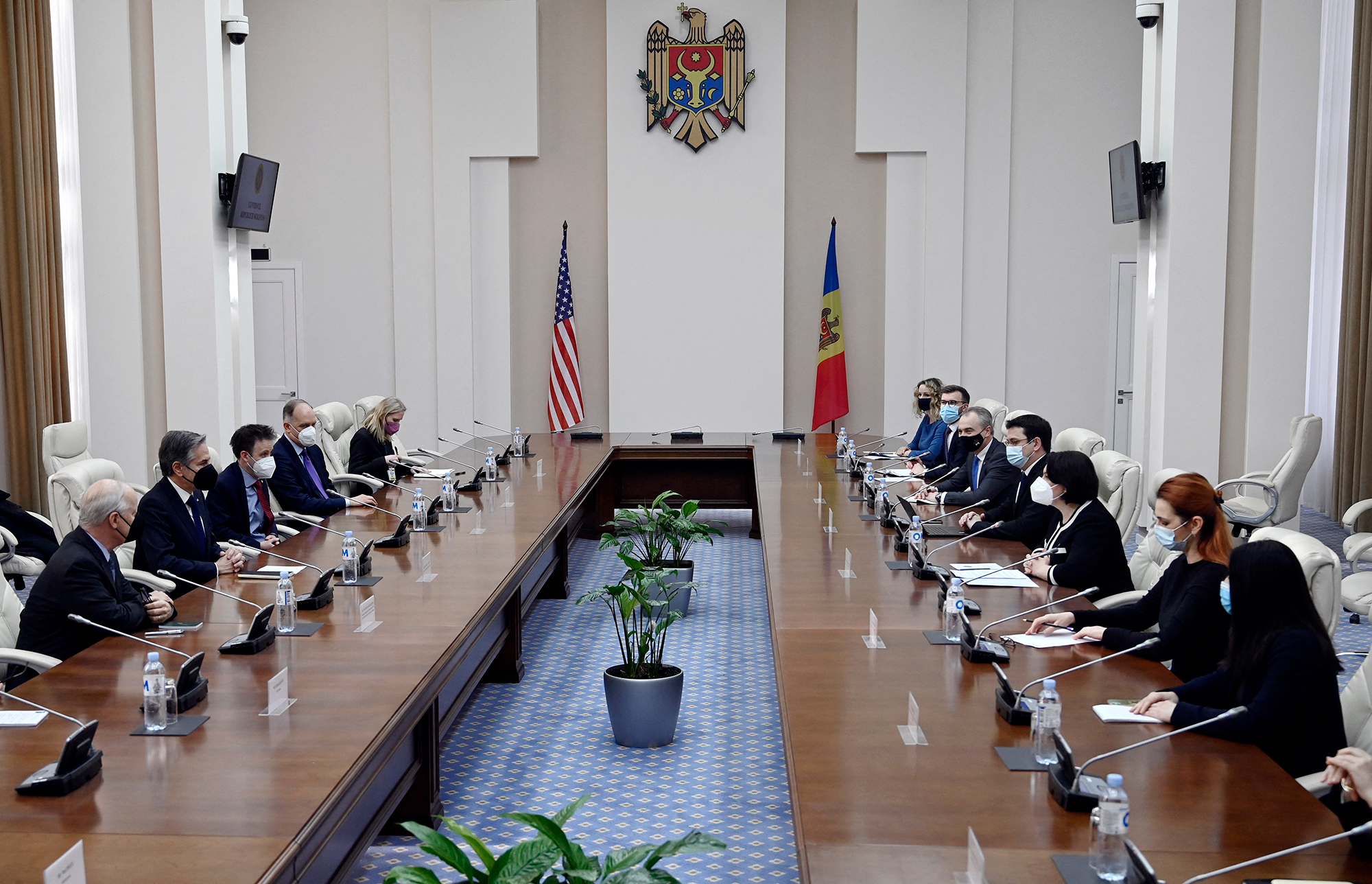 Moldovan Prime Minister Natalia Gavrilita said her country is "firmly committed" to European integration and stressed her desire for the nation to obtain European Union membership.
Gavrilita made the remarks in a news conference with US Secretary of State Antony Blinken in the Moldovan capital of Chisinau. Secretary Blinken is traveling in the country to meet with government officials during the refugee crisis stemming from the Russian invasion of Ukraine.
According to Gavrilita, more than 230,000 people have crossed over the Moldovan border from Ukraine, with 120,000 staying in the country.
"For a small country like Moldova proportionately this is a very large number. And managing such an influx because only been possible because of the extraordinary solidarity shown by every person, every company, every nongovernmental organization. Everybody has come together to host to provide shelter to provide food to provide assistance to those who are fleeing war," she said.
Gavrilita also added that the country was continuing its pursuit of EU membership, saying: "we have submitted our application on the third of March"
"And as we embark on this journey, we know that we can count on the friendship on the strong support with the United States."