Shane Lowry is the first man to take a nibble into Scottie Scheffler's lead. Just short of the green in two, he bundles a chip up to three feet, and tidies up for birdie.
-8: Scheffler (1)
-4: Lowry (2)
-3: D Johnson (4), Schwartzel (1)
-2: Thomas (7), Zalatoris (5), Smith (4), Conners (4), Na (4), Matsuyama (3)
Amen Corner (and its immediate environs) did a number on Jason Kokrak yesterday. After bogey at 10, he bogeyed 11 and doubled 12. But he's had payback today: birdie at 10, then another at 12, and finally a third at 13. After opening rounds of 70 and 76, it's been an up and down week for the 36-year-old from Ohio, but he's three under for his round today and back in credit at -1. His best finish here was 49th last year; he's well on course to best that now.
A sensational birdie for Will Zalatoris at 5. He's short of the green in two. Out comes the wedge, to take out the ridge running across the middle of the putting surface. He lands his ball on the top shelf, where it grips, then rolls serenely into the hole. He's -2.
Matsuyama takes his medicine, chipping back out from the trees down the left of 2. He sends his third to ten feet, but fails to make the birdie putt. Good course management, shame about the flat stick. On that subject, it's a three-putt bogey for Tiger at 9, and he turns in 39. It's not been his morning at all, and he's +4.
So is Scheffler on edge as he sets about defending his lead, or not? He pulls his second at 1 down the swale to the right, leaving himself a tricky chip back up with not a whole lot of green to play with. No matter! He sends a crisp, confident wedge to kick-in distance, salvaging his par, and de-jangling those nerves. His partner Schwartzel, pin high and 25 feet to the right, rolls his birdie effort three feet past, but tidies up for par. The final pair remain at -8 and -3 respectively.
A late-round birdie blitz from Tommy Fleetwood. Shots picked up at 13, 15 and 16 have whistled him up the standings to level par. No doubt he's been buoyed by relegation-haunted Everton's deserved victory over Manchester United earlier in the day. Meanwhile birdie at 2 for Dustin Johnson, bounceback birdie for his playing partner Kevin Na, a dropped stroke by Justin Thomas at the difficult 5th, and a careless bogey for Cam Smith at the short par-four 3rd, means the top of the leader board now looks like this:
-8: Scheffler
-3: D Johnson (2), Lowry (1), Schwartzel
-2: Thomas (6), Willett (4), Smith (3), Conners (3), Na (2), Matsuyama (1)
The leader Scottie Scheffler is out … and if any nerves have been building up as he waited for his tee time, they're not immediately apparent. He smacks his drive down the track, the ball unluckily sneaking into the second cut on the left. He's going round today with the 2011 winner Charl Schwartzel, who has missed his last six cuts this year, but now look. He cracks one down the middle, and off we go!
An opening bogey for the defending champion Hideki Matsuyama. He got himself back into position after sending his opening drive into the big bunker down the right of Tea Olive, but ended up missing a five-footer for his par. Having slipped back to -2, he's now hooked his drive at 2 into the trees down the left. Not the start he was after, as he bids to become only the fourth player to retain the Masters, after Jack Nicklaus (1966), Nick Faldo (1990) and Tiger Woods (2002). He's going round with Harold Varner III, who also bogeys 1 after a wild drive into the pines down the right. He's -1.
Collin Morikawa makes his first move! He drains a 25-footer from the fringe at 3 for a birdie that moves him to -2. Cam Smith meanwhile gets up and down from the front of 2 for a birdie that brings him to -3, as he sets about repairing the damage of yesterday afternoon's 74-shot struggle.
The first few players out this morning are back in the house … and it's been an awful day for the 2013 champion Adam Scott. A double-bogey six on 17, run up without any particularly egregious errors, just bang average golf, put the tin lid on an 80. He currently props up the entire leader board at +12. Viktor Hovland meanwhile makes it home with a one-under 71 that brings him up to +3.
Danny Willett finished yesterday's round in very average fashion, coming back in 39 strokes. But he's clearly not been sulking about it overnight. A first birdie of the day at 3 brings the 2016 champ up to -2. Opening bogey for Kevin Na, however, and the 38-year-old from Vegas slips back to -1 for the tournament.
A par-par start for Collin Morikawa. It's only 53 degrees Fahrenheit, about 12 degrees Celsius, which is way below average for Augusta in April. That, along with the fact that Morikawa is from California, may explain the snood, which nearly covers his entire head, and registers a full 11 on the Nik Kershaw-o-meter. He remains at -1.
A confident start by the 2012 US Open champion Webb Simpson. Birdie at 2, followed by a tee shot fired straight at the flag at the par-three 6th. He rolls in from ten feet and joins the group at -1.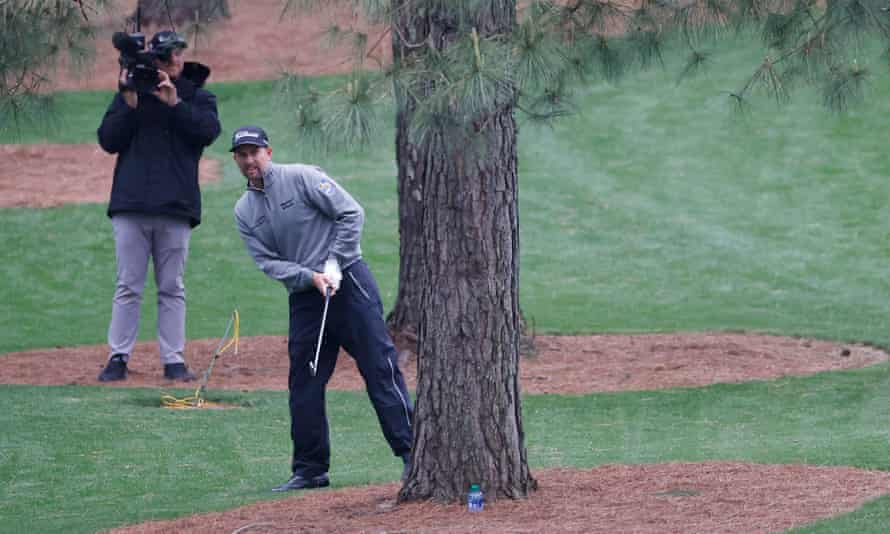 A fast start for Will Zalatoris, too. He opens with birdie to join the group at -2. But never mind that! It's another one for JT, who finds sand with his tee shot at the short par-four 3rd, leaves himself 30 feet from the flag, then rattles in the putt to grab himself a share of second. His partner Christian Bezuidenhout also makes birdie, the South African's first of the day, to move into the red.
-8: Scheffler
-3: Thomas (3), Schwartzel, Im, Lowry, Matsuyama
-2: Zalatoris (1), Smith (1), Varner III, D Johnson, Na
-1: Fitzpatrick (4), Bezuidenhout (3), Willett (2), Niemann (2), Conners (1), Morikawa (1)
Scottie Scheffler's antics yesterday slightly obscured the great comeback made by Justin Thomas. Both men shot 67, but while Scheffler's fine round catapulted him to the top of the standings, JT's merely hauled him back into contention after an out-of-sorts opening-day 76. Thomas was second favourite with the bookies going into the tournament, and having illustrated why yesterday, he looks in the mood again. In the bunker guarding the front right of 2, he splashes out delicately, the ball only just getting out, then rolling serenely towards the cup. It's a dimple away from dropping for eagle. In the birdie putt goes, and he's -2 overall.
Disaster for Tiger on 5. He shoves his approach well to the right. He still makes the green, though he's a good 65 feet from the flag. His first putt stops six feet short. Plenty left to do for par. He doesn't make it, trickling a gingerly hit effort wide left. He spins around to tap the bogey putt home … then watches in horror as, having rushed it, he pulls again and it lips out. A double-bogey, four-putt six. He clatters back down the leader board to +3, and there's no big surprise when he tosses his putter over his shoulder in the vague direction of his bag as a result.
Matthew Fitzpatrick has a decent record at Augusta. Solid and consistent, if unspectacular. After missing the cut on debut as an amateur in 2014, he's made the cut on every visit since, his best finish a tie for seventh in 2016, though he was never in contention to win that year. Starting today at level par through 36 holes, he bogeyed the 1st, but has just bounced back spectacularly with birdies at 2 and 3. He moves into red figures, and gives us our first excuse to update the leader board.
-8: Scheffler
-3: Schwartzel, Im, Lowry, Matsuyama
-2: Varner III, D Johnson, Na, Smith
-1: Fitzpatrick (3), Thomas (1), Willett (1), Niemann (1), Conners, Morikawa, Zalatoris
E: Simpson (4), Spaun (3), Bezuidenhout (1)
It's pretty chilly by the usual standards of April in Georgia. A cloudy day, and there may be the occasional shower. Perhaps most importantly, the winds are already picking up, and are expected to hover around the 20-25 mph mark all day. The course will get harder and faster as a result.
Tiger pulls a fairly dreadful tee shot at the 240-yard 4th – a fairway wood on a par three! – wide of the bunker on the left. He's faced with a tricky chip over the sand from 30 yards, but screeches his ball to a halt, a couple of feet short of the flag. In goes the par saver, and he remains at +1.
Rory rolls another one in! He curls a right-to-left 25-footer into the cup for birdie on 7. All good, except it follows a heavy handed chip from the fringe at 6 that left a six-footer he couldn't make. Two bogeys and two birdies, and he can get no higher than +2.
Victor Hovland only just made the cut after opening rounds of 72 and 76. He needs something really special today – plus a Scottie Scheffler stumble – if he's to contest tomorrow. That didn't look on the cards when he went out this morning in 37, but he's caught alight since turning, with birdies at 10, 11 and now 13. Some way to breeze around Amen Corner. He's +2.
Bounce-back birdie for Tiger! He sends his second at 2 into the sand guarding the front left of the green, then splashes out to three feet. In goes the putt, and he's back to +1 in short order. It won't surprise you to hear that the gallery following the five-time champion looks about 20 deep in some places. Thoughts and prayers go out to Kevin Kisner, very much the bridesmaid in this arrangement today. For the record, he's matched Tiger shot for shot so far, bogey then birdie, and he's +1 as well.
Augusta National was once a mere field, of course, until Bobby Jones, Clifford Roberts and Alister Mackenzie realised their dream. Now look. Such a task may seem daunting, but that's not put off Dan Davies, whose nascent RNGC "is a ridiculous, homemade homage to the par-three course at Augusta, albeit with many more opportunities for Tony Finau to pop his ankle". Read on and enjoy!
Oh Rory! How could we ever have doubted you! He sends his tee shot at the par-three 4th straight at the flag, but the best part of 40 feet short. No matter! He sends a tramliner into the cup for birdie, to repair the damage of that opening bogey. He's back where he started the day at +2.
Tiger is out and about. Love him or obsess about him, the man is box office. He stripes his first tee shot of the day straight down the track, then knocks his second onto the green, albeit a good 50 feet to the right of the flag. He spends a good couple of minutes prowling around, sizing up all the undulations. He's surprisingly unsuccessful in his calculations: the pace is fine, but the ball breaks a good ten feet to the left of the hole. He's now got some work for his par. He can't make it, and slips back to +2. Meanwhile here's some rather more successful Fast Start News: birdie for Sergio Garcia at 1, he's +1 overall, and birdie for Jon Rahm at 2, he's +1 as well.
Unsurprising News dept. Rory McIlroy sent his opening tee shot into the woods down the right of Tea Olive, en route to bogey. He's since missed a birdie opportunity from ten feet on 3. He's +3, and those career slam dreams look more and more fanciful as the years go by. On that subject, here's Steve Buist: "It pains me to say this but I fear Rory has become a head case. I like the guy immensely but I predict he'll never win another major. Something's not loggin' in his noggin. But he owes me nothing. Back in 2011, I was on a golf holiday to Scotland and popped in to a Coral's in Troon and bet on Rory to win the US Open – when he was leading by 10 strokes or something like that. He held on and I won 86p. I think the Coral's had to close after that payout."
Here we go, then. Moving Day! And of the early starters, only one man is currently better than one under for his round. Step forward Marc Leishman. The 38-year-old Aussie has three top-ten finishes at Augusta on his CV, the latest being a tie for fifth last year. He also jointly holds the Masters record for lowest cumulative score on the par fives in one tournament, playing them in 15 under par in 2020. Birdies at 2 and 8 today, and he's hitting the turn in 34. He's +2 overall.
There's only one place to start.
It's Moving Day! Can anybody hunt down Scottie Scheffler? Will he extend his lead? Will he fall back into the pack? We'll find out soon enough! Here's what the top of the leader board looks like …
-8: Scheffler
-3: Schwartzel, Im, Lowry, Matsuyama
-2: Varner III, D Johnson, Na, Smith
-1: Conners, Morikawa, Zalatoris, Willett, Niemann, Thomas
E: Bezuidenhout, Fitzpatrick, Spaun
+1: Simpson, Cantlay, Kisner, Woods
+2: MacIntyre, Westwood, Watson, Garcia, Hatton, Rahm, McIlroy, Straka, Swafford, Higgs, Kim, Kokrak, Gooch, Berger, Finau
… here are some big names who have missed the cut …
Jordan Spieth, Brooks Koepka, Xander Schauffele, Gary Woodland, Justin Rose, Bryson DeChambeau, Sam Burns, Padraig Harrington, Zach Johnson, Mike Wear, Stewart Cink, Bernhard Langer, Francesco Molinari, Freddie Couples, Larry Mize, Jose Maria Olazabal, Sandy Lyle and all the amateurs
… and here's when everybody's teeing off. (USA unless stated, all times BST, -a- denotes amateurs). We'll get going here at 6pm BST. It's on!
15.20 Mackenzie Hughes (Can), Adam Scott (Aus)
15.30 Viktor Hovland (Nor), Min-Woo Lee (Aus)
15.40 Marc Leishman (Aus), Seamus Power (Irl)
15.50 Cameron Davis (Aus), Lucas Glover
16.00 Tommy Fleetwood (Eng), Max Homa
16.10 Tom Hoge, Billy Horschel
16.20 Russell Henley, Patrick Reed
16.30 Cameron Champ, Tony Finau
16.40 Daniel Berger, Talor Gooch
17.00 Si Woo Kim (Kor), Jason Kokrak
17.10 Harry Higgs, Hudson Swafford
17.20 Rory McIlroy (NIrl), Sepp Straka (Aut)
17.30 Tyrrell Hatton (Eng), Jon Rahm (Spa)
17.40 Sergio Garcia (Spa), Bubba Watson
17.50 Robert MacIntyre (Sco), Lee Westwood (Eng)
18.00 Kevin Kisner, Tiger Woods
18.10 Patrick Cantlay, Webb Simpson
18.20 Matthew Fitzpatrick (Eng), JJ Spaun
18.40 Christiaan Bezuidenhout (Rsa), Justin Thomas
18.50 Joaquin Niemann (Chi), Danny Willett (Eng)
19.00 Collin Morikawa, Will Zalatoris
19.10 Corey Conners (Can), Cameron Smith (Aus)
19.20 Dustin Johnson, Kevin Na
19.30 Hideki Matsuyama (Jpn), Harold Varner III
19.40 Sung Jae Im (Kor), Shane Lowry (Irl)
19.50 Scottie Scheffler, Charl Schwartzel (Rsa)