14 hr 55 min ago
This Ukrainian maternity hospital is now treating wounded soldiers: "The numbers keep going up"
From CNN's Ivana Kottasová in Kyiv
A maternity hospital not far from the front lines in Kyiv has become a clinic treating wounded soldiers and people injured in Russian strikes.
The head of the hospital, who asked for his name and the name of the facility to remain private over security fears, said many of his staff are now essentially living in the hospital — some with their families — and working around the clock trying to help victims.
"Currently, we have no maternity patients, but we have a lot of wounded local citizens and soldiers. Local people come to us when they need help with food and medicine, and we provide all urgent health care. The numbers are going up and people come 24/7," he said. The hospital head added that that patients including women have been coming in with serious injuries in recent days.
We've had a local woman who died yesterday in our hospital because Russian bomb dropped near here. Some of the injuries are very, very serious," he said.
For now, he said, the hospital is coping, despite normally specializing in maternity care."We are well equipped for now, but the problem is that the number of people who are coming to us is increasing, and it's really a lot of people with serious injuries and we don't have enough staff if the numbers keep going up."
He said the hospital is trying to secure equipment and materials that are intended for treating serious military wounds, something the hospital doesn't normally stock in larger quantities.
We hear the fighting. Yesterday it was a little bit better, today is medium, but the Ukrainian army, I feel, is strong so we feel that it will be safe to stay and help our army," he said.
At the same time, the hospital continues serving its core patients. 20 babies have been born here since the invasion started 10 days ago — all of them safe and healthy.
"They all went either home or traveled to western Ukraine," the hospital's chief said.
15 hr 26 min ago
Kyiv district appeals for help "to survive" amid heavy fighting
From CNN's Tim Lister in Kyiv
A district to the northwest of the Ukrainian capital of Kyiv has issued an urgent appeal for help amid intense shelling by Russian forces.
The district of Bucha has been at the center of fighting for more than a week.
"The enemy continues to shell all quarters in Bucha mercilessly: every day is the struggle for survival," the city council said on Facebook Sunday.
"There is no electricity, heat, communication, internet," it said.
Every day we receive thousands of messages from the residents of Bucha and settlements of the community about the need for food, water, restoration of communications."
It is impossible to deliver humanitarian aid: the community is under siege. We need support to survive! Help us to save the community!" the district urged.
Videos from the area in recent days show extensive damage and the wreckage of military vehicles.
15 hr 26 min ago
"Fastest growing refugee crisis in Europe since World War II": More than 1.5 million people have crossed from Ukraine into neighboring countries
From CNN's Sharon Braithwaite and Nadine Schmidt
More than 1.5 million refugees from Ukraine have crossed into neighboring countries in 10 days, UN refugee agency commissioner Filippo Grandi said Sunday.
In a Twitter post, Grandi called it "the fastest growing refugee crisis in Europe since World War II."
Meanwhile, Germany's interior ministry told CNN that nearly 38,000 people have arrived in the country from Ukraine since the beginning of the Russian invasion on February 24.
German Federal Police registered 37,786 refugees from the war-torn nation as of Sunday, an interior ministry spokesperson told CNN.
However, given the absence of border checks between Poland and Germany, the actual number of incoming people could be significantly higher, the ministry said.
Germany's interior minister Nancy Faeser told German newspaper "Bild am Sonntag" that Germany would host refugees fleeing the war in Ukraine no matter what their nationality.
"We want to save lives. That doesn't depend on the passport," Faeser told the German newspaper.
16 hr 17 min ago
"Hero of the night": 11-year-old boy crosses from Ukraine into Slovakia on his own
From CNN's Ivana Kottasova
A boy from Zaporizhzhia, southeast Ukraine, was hailed "a hero of the night" by Slovakian authorities after they said he crossed Ukraine's border into Slovakia on his own.
The 11-year-old was carrying a backpack, a plastic bag and a passport, and had a telephone number written on his hand, according to the Slovak Ministry of Interior. CNN could not independently verify those statements.
He came all alone because his parents had to stay in Ukraine. Volunteers took care of him, took him to a warm place and gave him food and drink," the ministry said.
The statement, posted on the ministry's Facebook page Saturday, said that thanks to the information written on the boy's hand and on a piece of paper that was folded in his passport, the staff at the border were able to get in touch with the boy's relatives in Slovakia who were then able to come and collect him.
"He won over everyone with his smile, fearlessness and determination worthy of a real hero," the statement said. It is unclear why the boy was unaccompanied.
CNN could not independently verify this individual case but more than 1.2 million refugees have now left Ukraine since February 24, according to the UN as of March 3. Of the 1,209,976 refugees who have fled, a majority of them, 53.7%, crossed into Poland.
Others have gone to countries including Hungary, Slovakia, Moldova and Romania.
16 hr 20 min ago
Evacuation checkpoint near Kyiv shelled
From CNN's Tim Lister in Kyiv
An evacuation crossing point for civilians trying to escape the Irpin district west of Kyiv was shelled Sunday morning.
International media were filming at the location when what appears to have been an artillery shell landed.
At the time a stream of civilians was coming through the checkpoint.
Media organizations at the scene of the explosion near Irpin say at least three civilians have been killed, including two children.
CNN cannot independently confirm the casualties.
13 hr 44 min ago
World Health Organization warns of "multiple deaths and injuries" as Ukraine's health care facilities attacked
From CNN's Sharon Braithwaite in London
The World Health Organization (WHO) has confirmed "several attacks on health care [centers] in Ukraine, causing multiple deaths and injuries," WHO Director General Tedros Adhanom Ghebreyesus said Sunday.
"Additional reports are being investigated," Tedros said on his verified Twitter account, without mentioning Russia. "Attacks on healthcare facilities or workers breach medical neutrality and are violations of international humanitarian law," he added.
So far, the WHO has confirmed six attacks to health care facilities, the head of the WHO office in Ukraine, Jarno Habicht, told the BBC on Sunday.
These are either hospitals or some of them are ambulances," Habicht said, adding that the attacks affect health care workers who are in the front lines.
What is important is to "respect the humanitarian law as well to ensure safe corridors because the health needs of people are increasing daily and every hour, and it's very, very important to ensure that there is a safe passage of trauma and surgery goods," he added.
Habicht also said the work of health care workers is increasingly difficult due to the military offensive, with many of them now working in bomb shelters.
Habicht described the situation as "quite devastating," since the health care system is already "relatively stretched" and facing multiple health challenges, including Covid-19.
17 hr 14 min ago
Humanitarian corridors set to open again after being shut yesterday, according to Russian state media
From CNN's Tim Lister and Radina Gigova
Humanitarian corridors in the southeastern Ukrainian cities of Mariupol and Volnovakha will be opened again today, according to Russian state news agency TASS.
Some skepticism over the routes has grown after Ukrainian authorities paused evacuations of civilians Saturday, citing Russian violations of a ceasefire.
"In the morning, humanitarian corridors will again be opened both in Mariupol and Volnovakha," Eduard Basurin, deputy head of the so-called People's Militia of the Donetsk People's Republic told reporters, TASS reported.
Civilians in the battered Ukrainian port city of Mariupol are trapped without power and water and unable to recover their dead, its mayor said Saturday, as he accused Russia of trying to "choke" the city by shutting off agreed evacuation routes.
Russia agreed to a ceasefire on Saturday to allow civilians to safely leave Mariupol and Volnovakha, where residents have endured days of heavy, indiscriminate shelling.
But evacuations were paused, with Ukrainian authorities accusing Russia of violating the agreement by resuming its attacks, leaving thousands of civilians trapped in what people on the ground describe as increasingly dire conditions.
Another attempt to open a humanitarian corridor for civilians in the city of Mariupol will begin at 12 p.m. local (5 a.m. ET), the Governor of the Donetsk region, Pavlo Kyrylenko, said Sunday on his official Twitter account.
A ceasefire will be in effect from 10 a.m. to 9 p.m. local time Sunday, Kyrylenko said.
18 hr 27 min ago
Protesters gather in Taiwan against Russia's invasion of Ukraine
From CNN's Eric Cheung in Taipei, Taiwan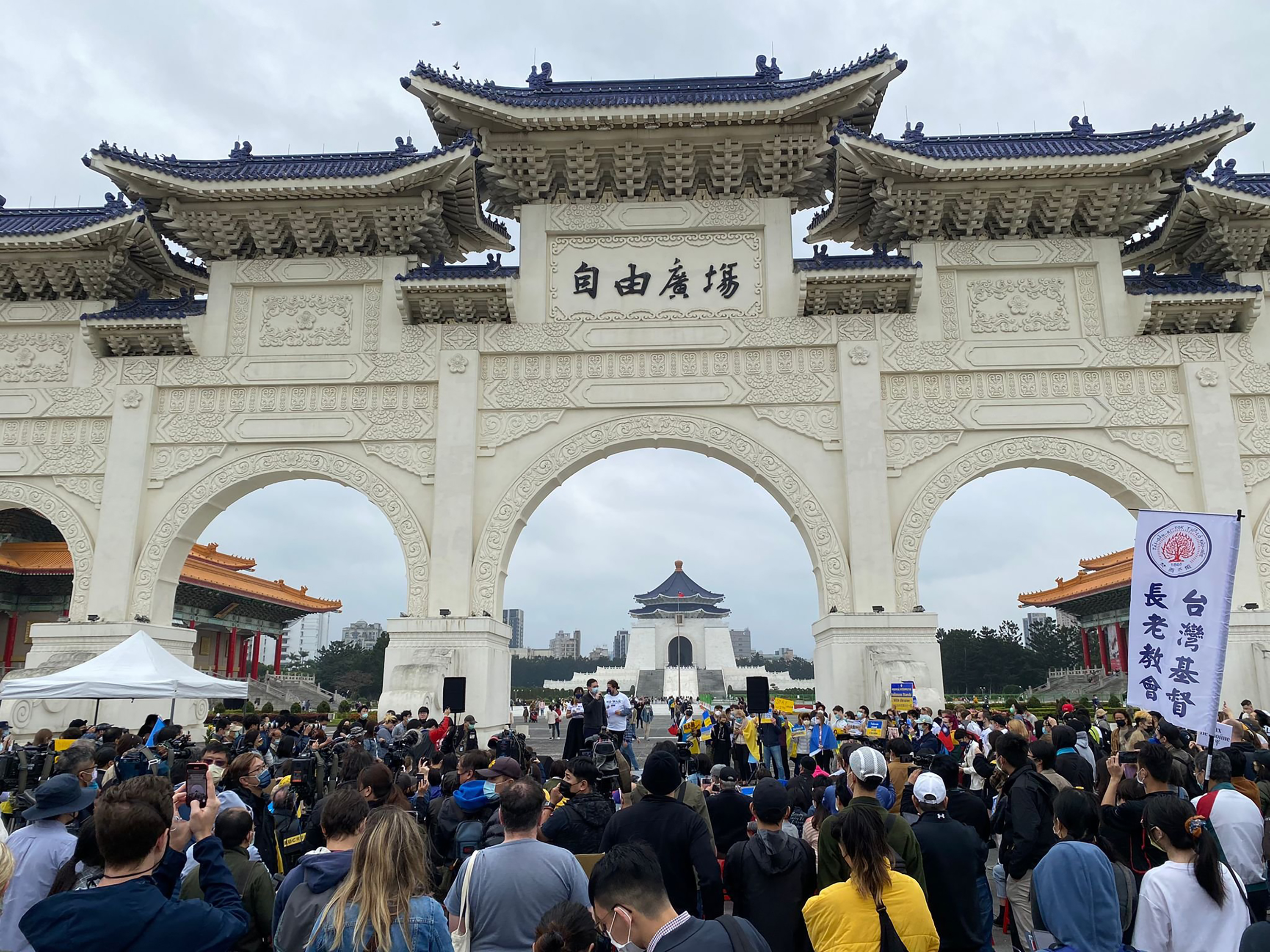 Hundreds of people gathered in Taiwan's capital, Taipei, on Sunday to protest against Russia's invasion of Ukraine.
Among the demonstrators were Ukrainians living in Taiwan and Taiwanese lawmakers. They waved Ukraine and Taiwan flags, and held placards reading "no war" and "Taiwan stands with Ukraine."
"I am here in solidarity with the people of Taiwan and other nationalities who came here to protest against the war," said Oleg Nevenglovskiy, a Ukrainian who has lived in Taiwan for two years.
"It is important for everyone to wake up and raise their voice — however they can — to remind others that this is not just a war against Ukraine, but against all of humanity. We all want this to stop, but I can't see it. I'm afraid for my nation, I'm afraid for my people."
Anatolii Bakurov, a Ukrainian who has lived in Taiwan for 10 years, said while some people often compared Taiwan with Ukraine, he is more optimistic about the future of Taiwan.
"The neighboring country now knows the cost of an invasion," he said, referring to mainland China.
"Also, even if your army is much stronger, it doesn't mean anything because all civil people in the small country will come together and attack your tanks without any arms. You will never conquer any country."
The protest was held at Liberty Square, a gathering ground in Taipei that played a key role in Taiwan's transition from one-party rule to a democracy in the 1990s.
Some context: Taiwan has pledged its support for Ukraine, recently announcing it would donate 27 tons of medical supplies to the country. While there may be parallels between Taiwan and Ukraine — both are Western-friendly democracies whose status quo could be upended by powerful autocracies — experts question how much Beijing could glean from the spiraling crisis in Ukraine when it comes any future actions toward Taiwan.
In Taiwan's case, China's Communist Party seeks eventual "reunification" with the self-ruled island it claims as its territory despite having never governed it — and has not ruled out doing so by force.
18 hr 33 min ago
South Korea to impose sanctions against Belarus for its support of Russia
From CNN's Jake Kwon in Seoul, South Korea
South Korea will impose export controls against Belarus for its support of Russia's invasion of Ukraine, the country's Foreign Ministry said Sunday.
The export control will apply in a similar way to the one it earlier imposed on Moscow, the ministry said in a news release. In February, South Korea blocked exports of strategic goods to Russia.
"Our government … decided today to implement export control against Belarus under the judgement that Belarus is practically supporting Russia's invasion of Ukraine," the ministry said.