7 hr 12 min ago
US State Department again urges Americans to not travel to Russia
From CNN's Kylie Atwood
The US State Department has once again urged Americans not to travel to Russia on Saturday, citing the "unprovoked and unjustified attack by Russian military forces in Ukraine," and "the potential for harassment against U.S. citizens by Russian government security officials."
The alert comes after the department told Americans in Russia earlier this week in a similar alert to considering "immediately" departing the country while there are still commercial flights leaving the country. The security alert on Monday reiterated those warnings.
6 hr 44 min ago
18-month-old boy dies after shelling in Mariupol
CNN Photos
Editor's note: Photos may be deemed upsetting to readers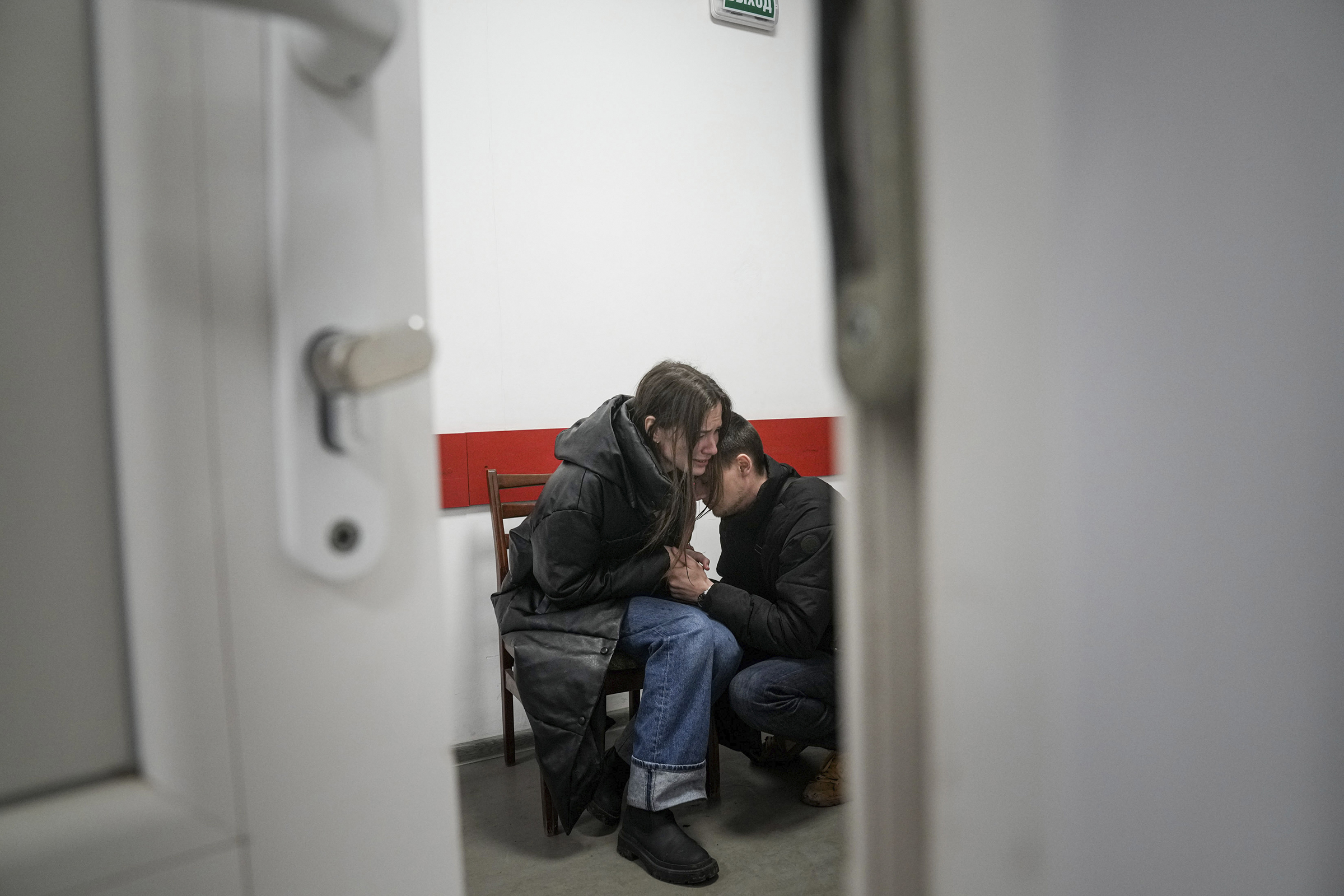 Marina Yatsko, along with her boyfriend, Fedor, rushed to the hospital Friday after her 18-month-old son, Kirill, was wounded in a shelling in Mariupol, Ukraine.
Associated Press photographer Evgeniy Maloletka captured the scene as medical workers frantically tried to save the boy's life. He didn't survive.
The key city of Mariupol is under siege by Russian forces determined to tighten their grip on Ukraine. On Saturday, Ukrainian officials accused Russia of shelling the city and civilian corridors out of it, despite Russia's own agreement to hold fire. Western officials have noticed a shift in Russian strategy with increasing attacks on civilians and residential areas.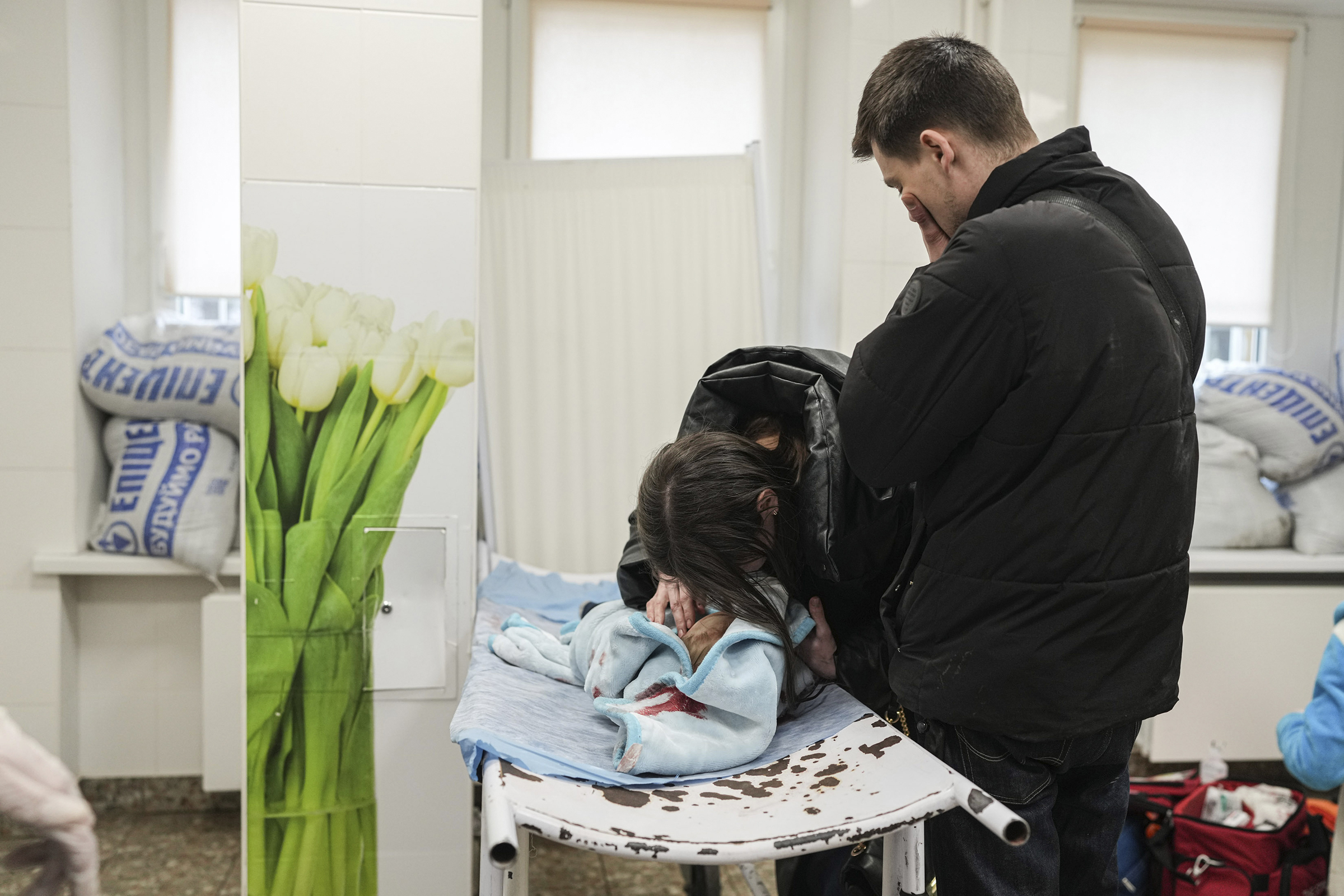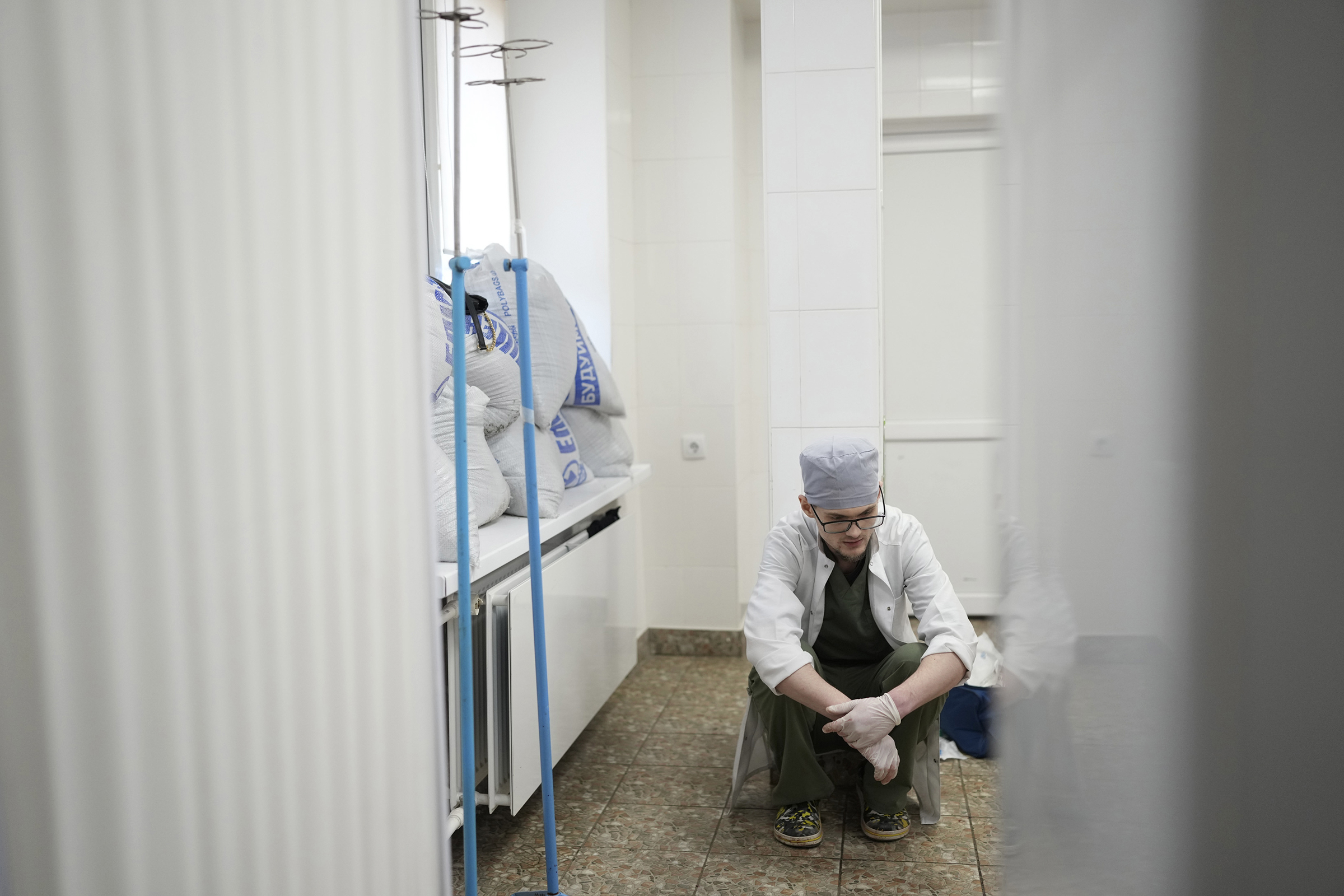 7 hr 25 min ago
"Poland will never recognize territorial changes" in Ukraine brought on by Russian aggression, Polish FM says
From CNN's Aliza Kassim
Poland's Foreign Minister Zbigniew Rau vehemently stated his country's position on the Russian invasion of Ukraine, saying that Poland will "never recognize territorial changes" brought on by Russian aggression in Ukraine.
"Poland will never recognize territorial changes brought on by unlawful, unprovoked aggression the way in which Russia conducts hostilities based on the desire to break the will of Ukrainian resistance by means of attacks that terrorize the civilian population. Shelling residential areas, nuclear power plants … are war crimes under international law which are not subject to [the] statute of limitations and will be persecuted with utmost determination," Rau said after meeting with US Secretary of State Antony Blinken in Rzeszow, Poland.
Speaking to the press, Blinken and Rau confirmed their unified approach in assisting refugees and standing against Russia's invasion of Ukraine. 
Rau reiterated his country's support to the people of Ukraine, adding the importance of an evacuation corridor "that would facilitate the evacuation of Ukrainian citizens." 
Responding to Rau, Blinken reaffirmed his country's commitment toward the people of Ukraine and thanked Poland for its work in housing the many refugees from Ukraine.
"As allies and partners, Poland and the United States have stood together in many many challenges, now the great ideals that bind us – freedom, democracy, peace, security are under threat in this region as never before, certainly not since the 2nd world war," Blinken added.
Blinken also touched upon the United States' efforts to assist "vulnerable" populations within Ukraine but also in neighboring countries, saying, "to help refugees in Poland, the Biden administration just requested from Congress $2.75 billion dollars in humanitarian assistance that is both to meet the needs of vulnerable communities and people inside of Ukraine as well as support refugee services here in Poland." 
3 hr 22 min ago
Exhaustion of "confined" Chernobyl power plant staff poses "danger" to world, says nearby mayor
From CNN's Wayne Chang in Hong Kong
The growing exhaustion of staffers confined for "10 days" at the Chernobyl nuclear power plant is not only "difficult," but could pose "a danger to the world," Yuriy Fomichev, the mayor of Slavutych, told CNN in a telephone interview on Saturday.
"People are tired; they are exhausted, both mentally and emotionally, but mainly physically," Fomichev said, adding that more than 100 people in the plant are shift personnel who should have been handed over after 12 hours.
"A nuclear facility run by the same shift of 100 people without a break for 10 days in a row means their concentration levels are too low … the main thing we want to convey is that it is very dangerous," Fomichev said.
Staffers in the plant only eat one meal per day and have limited amount of time to contact their families, Fomichev said. 
Slavutych, a city in northern Ukraine, was purposefully built in 1986 to house evacuated personnel from the Chernobyl power plant, the site of the world's worst nuclear disaster.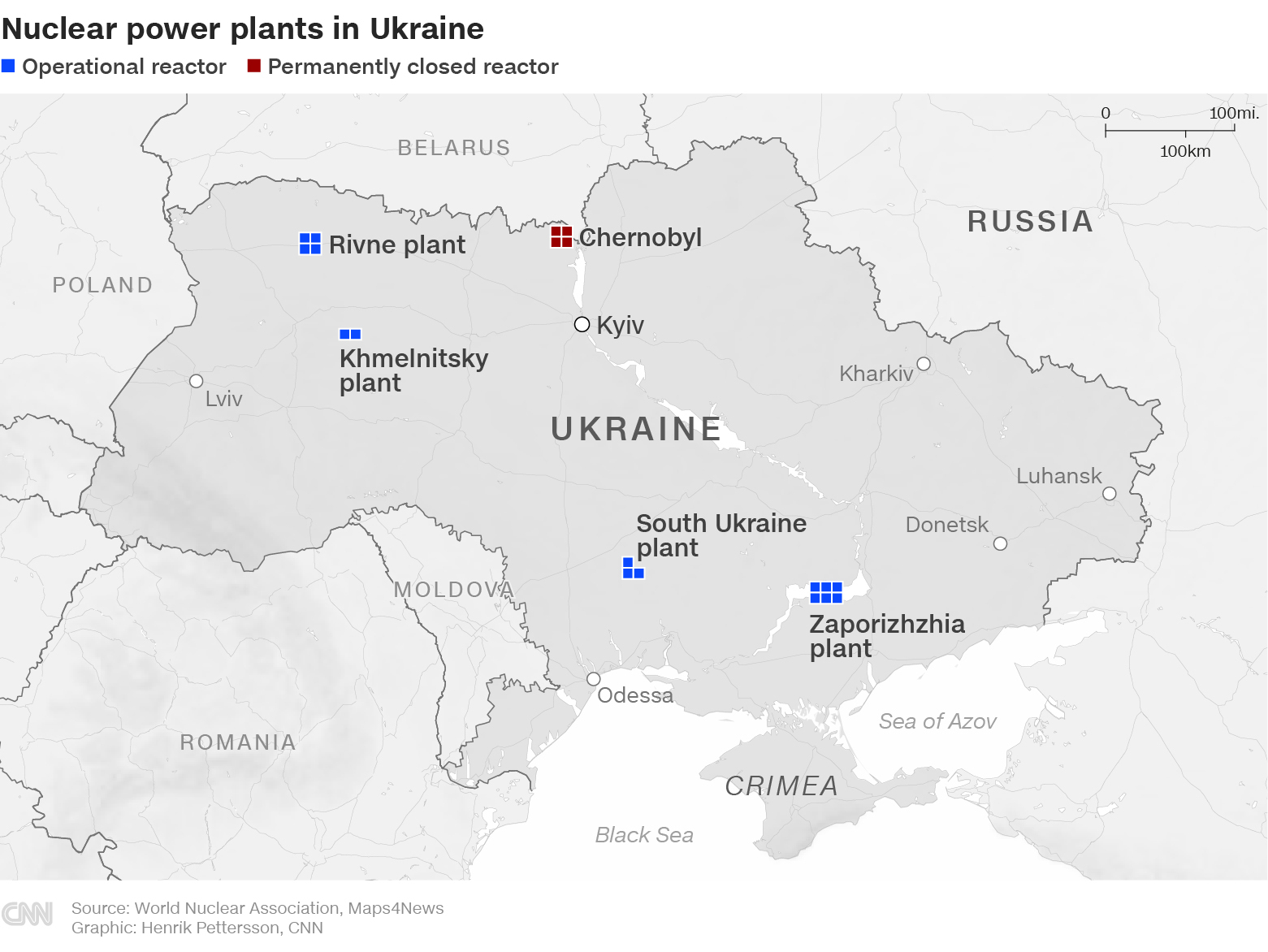 CNN's Irina Morgan in London contributed to this report.
7 hr 46 min ago
Former US vice president calls out Putin "apologists" during Republican retreat
From CNN's Gabby Orr
Mike Pence, the vice president under former US President Donald Trump, on Friday condemned "apologists" in his own Republican party who have used positive language to describe Russian President Vladimir Putin.
"There is no room in this party for apologists for Putin. There is only room for champions of freedom," Pence said, according to a source who was in the room where Pence spoke to top Republican donors at a retreat in New Orleans. The line received applause from donors, the source said. The event was closed to the press.
Pence's speech came just days after Trump described Putin as "genius" and "savvy" for launching a full-scale invasion in Ukraine, where civilian casualties continue to pile up despite global condemnation of the Russian leader's actions.
According to his prepared remarks, which the source said he did not deviate from Friday, Pence called on the Biden administration to take stronger actions against Russia, including sanctions on the country's oil exports.
"Putin only understands strength. As members of the party that won the Cold War, we must send a deafening message: Putin must stop or Putin must pay," Pence said.
Read the story in full here.
7 hr 58 min ago
India calls for ceasefire after students in Ukraine plead for evacuation
From CNN's Esha Mitra in New Delhi
The Indian government is speaking to officials in both Russia and Ukraine to press for a ceasefire after Indian students stuck in Ukraine appealed for evacuations, a government spokesperson said Saturday.
"We are strongly urging both sides to have a ceasefire; whether it will happen, when it will happen, is something we will see as it happens," said Arindam Bagchi, a spokesperson of India's Ministry of External Affairs, during a Saturday news conference. "But I hope it happens because that will be something useful and necessary for us, otherwise we are putting them at risk. … We will continue to press on this."
At least 700 Indian students are stranded in Sumy, a city in northeastern Ukraine, according to the ministry.
Bagchi said the other primary concern was transportation, as Sumy is about 30 miles from the Russian border and train lines are not operational.
Bagchi said buses or trucks would be a plausible option; however, the best route out would be determined by officials on ground. Meanwhile, Denis Alipov, the Russian ambassador to India, said Russia had responded to India's request for help and arranged for "hundreds of buses."
"We have created special groups that are ready to take the Indians to the territory of the Russian Federation and then transport them to India, but the catch is the fighting in these areas continues and where the Indians are, our forces are not," Alipov said Saturday, adding that Indian diplomats were in Belgrade, Serbia, to coordinate action on ground.
Bagchi said that he understood the students' feelings of being left behind but urged them to remain in shelters. Students have told CNN that the Indian embassy has not responded to their calls, but Bagchi said, "we are talking to the students directly both from the embassy and our control room here."
"If there is a corridor, we will find a way to get them out," he said. "If there is a pause in fighting, I assure you we will be able to pull them out."
Bagchi said that all Indian citizens had left Kharkiv as far as the ministry was aware, but the embassy will take a fresh look to identify any citizens that remain.
8 hr 6 min ago
Kherson has no more armed resistance against Russia forces, mayor tells CNN
From CNN's Jennifer Deaton
Kherson's Mayor Ihor Kolykhaiev told CNN "we don't have more weapons to resist" Russian forces that surrounded the city.
"The people of Kherson are unarmed. We don't have more weapons to resist, to put up an armed resistance," he said to CNN's John Berman.
"We don't have the army in the city. The army has been defeated. The Ukrainian army had to retreat, so there are no arms. They've retreated towards Nikolaev," he continued.
Kolykhaiev said the Russian troops will remain in control of Kherson unless and "until the Ukrainian army can advance on Kherson," adding of Russian forces, that "they're quite settled here."
"Russian troops are everywhere," he added.
Kolykhaiev told Berman that life goes on, but all city services are down.
"The normal services have stopped because the normal services have no way of operating," he said.  
He also made an appeal for humanitarian assistance, saying that "production, critical infrastructure has been suspended. The city is without power and without water."
Kolykhaiev said there was no way of getting aid into the city because the only way to get aid in is via Crimea from the Russian side.
"So Russians want to send their humanitarian aid, but the people of Kherson are refusing it. Because they are patriots and they don't want aid from Russians. They want aid from Ukrainians. So we are not receiving humanitarian aid at the moment," he said.   
"We have a lot of people here in need," he said. "We have cancer patients, children who need medication. This medication is not currently getting through to them."
Kherson is a strategically important city on an inlet from the Black Sea with a population of nearly 300,000. 
8 hr 12 min ago
Ukrainian foreign minister praises protests against Russia in some cities
From CNN's Tim Lister in Kyiv
Ukrainian Foreign Minister Dmytro Kuleba has tweeted video from two cities in Ukraine – Berdyansk and Kherson – showing protests against Russian occupation.
Kuleba said: "Courageous Kherson inspires Ukraine and the world! Thousands of peaceful Ukrainians protests Russian occupation in front of armed Russian soldiers. What a spirit."
"Also in Berdyansk peaceful Ukrainians demonstrate that their city does not belong to Russian invaders. I admire the fearless spirit of my compatriots and call on everyone around the globe to support them!"
It is not clear when the videos were recorded.
CNN has confirmed there have been protests against Russian occupation in both cities Saturday, as well as at least one in the eastern Ukrainian region of Luhansk.  
8 hr 12 min ago
Putin says countries imposing no-fly zone would be considered "participants in a military conflict"
From CNN's Mostafa Salem
Russian President Vladimir Putin said on Saturday that he would consider countries imposing a no-fly zone over Ukraine as participating in the conflict. 
"We will immediately consider them as participants in a military conflict, and it doesn't matter members of which organizations they are," Putin said in a meeting with flight crewmembers of Russian national airlines. 
"It is impossible to do it, on the very territory of Ukraine, it's possible only from the territory of some neighboring states. But any movement in this direction will be considered by us as participation in an armed conflict," Putin added.
More background: President Volodymyr Zelensky and other Ukrainian leaders have repeatedly pleaded with NATO and Western officials to impose a no-fly zone over Ukraine. 
NATO's Secretary General Jens Stoltenberg said on Friday that a no-fly zone is not an option being considered by the alliance.
US Secretary of State Antony Blinken said Friday that the establishment of a no-fly zone in Ukraine by the United States and its NATO allies could lead to a "full-fledged war in Europe," but added that Washington would continue to work with its allies to provide Ukrainians with the means to defend themselves from Russian aggression.